Al Murray to guest edit Radio 4 Today show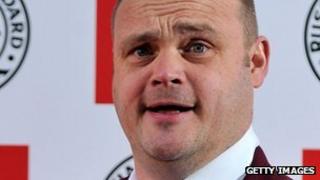 Comedian Al Murray and writer Benjamin Zephaniah are to guest edit BBC Radio 4's Today over the festive period.
Bill Gates's philanthropist wife Melinda, Nobel Prize-winning geneticist Sir Paul Nurse and journalist Dame Ann Leslie will also take part.
Since 2003, public figures have been invited to present the flagship current affairs programme between Christmas and New Year.
The programme's producers will help bring the guest's ideas to air.
The editors will be responsible for up to half of the show's output, although the usual Today editors will be on hand to ensure the material is newsworthy and meets the BBC's editorial guidelines.
"The guest editors have been responsible for some remarkable radio journalism over the years," said Ceri Thomas, editor of Today and the BBC's acting deputy director of news.
"They often surprise us with their interests and ideas and this year's line-up should be no exception.
"Once again, we have a fascinating group of individuals who will bring their own unique expertise to the programme."
The guest editors will be on air between 27 and 31 December.
Oscar-winning actor Colin Firth and artist David Hockney are among those to have guest-edited end-of-year Today shows.
Other guest editors have included Pulp frontman Jarvis Cocker, Lord Coe, Professor Stephen Hawking, Bono, Yoko Ono, Tracey Emin and Sir Richard Branson.