Simpsons to shoot Judd Apatow script at last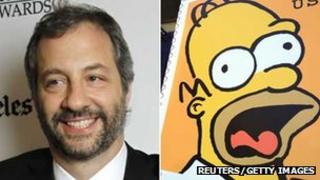 A script Judd Apatow wrote for The Simpsons 22 years ago is to finally make it to air, the screenwriter, director and producer has revealed.
In an online interview, the Anchorman creator said he had submitted a script during the sitcom's first season.
The script, he added, saw Homer Simpson hypnotised into thinking he was 10.
After speaking about his submission recently, he said he had received a call from the team behind the show saying it would be animated in 2013.
"I got a call from The Simpsons saying 'We're going to shoot that episode next year'," Apatow told Conan O'Brien on his Serious Jibber-Jabber internet show.
"Now I can retire," the 44-year-old went on to joke, adding that the "spec" - short for speculative - script was "the first thing [he] ever wrote".
Apatow is currently promoting This Is 40, a comedy built around two of the supporting characters from his 2007 success Knocked Up.
More than 500 episodes of The Simpsons have been broadcast since the animated comedy began its first season in December 1989.