John Lithgow play, The Magistrate, splits UK critics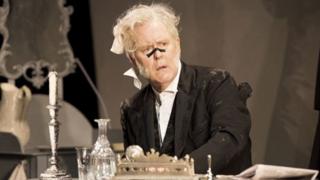 The National Theatre's Christmas production, The Magistrate - a Victorian farce starring US actor John Lithgow - has led British critics to deliver a hung jury.
The comedy, written by Arthur Wing Pinero, first opened at the Court Theatre in London in 1885.
Directed by Timothy Sheader, the latest production was brought in at the Olivier Theatre to replace a shelved adaptation of The Count of Monte Cristo by Richard Bean, writer of last year's hit show One Man, Two Guvnors.
Set in the latter end of the 19th Century, the plot concerns a respected magistrate who finds himself caught up in a series of scandalous events.
Mr Aeneas Posket lives with his 30-something wife Agatha, a recent widow and her son Cis, whom she claims - by way of a white lie about her real age - is just 14 years old.
However, the lusty teen - sporting a preposterous curled mop on top of his short 5ft (1.52m) frame, has a fondness for cigarettes, alcohol and his 16-year-old music teacher Beattie.
The arrival of an old family friend looks set to unravel the desperate Mrs Posket's web of deceit and as she tries to head him off - her wayward child leads the increasingly bewildered Mr Posket on an altogether different adventure exploring Victorian London's late night delights.
Here is a sample of reviews published on Thursday.
Daily Mail - Quentin Letts
With John Lithgow as Magistrate Posket, his composure unravelling like a ball of wool, and the marvellous Nancy Carroll as his growly tigress of a spouse, this show has a strong cast.
It is young Joshua McGuire who sends it cascading into farcical anarchy, however. He plays Cis with double-takes, clicked heels, bulging eyes (and trousers), swaggering walks, jaunty hat angles, a gawpy smile and the liquid gait of a Cunard waiter in a gale.
It starts a little slowly with a Gilbert and Sullivan-style musical number written by clever Richard Stilgoe but we have more such songs later and they are keenly witty.
Daily Telegraph - Charles Spencer
Director Timothy Sheader offers us this amiable Victorian comedy, which has its winning moments, but never quite achieves those blissful farcical heights when it becomes physically impossible to stop laughing.
As Frankie Howerd used to say, I occasionally got my titters out, but great guffaws proved elusive.
Nancy Carroll however proves genuinely touching as his wife whose innocent lie leads to a spiral of chaos, while the diminutive Joshua McGuire is both funny and more than a touch creepy as the boy who doesn't realise he's a man.
The Guardian - Michael Billington
The best performances come from Nancy Carroll who makes Mrs Posket a ratty virago desperate to cover up her initial lie and from Jonathan Coy as a peppery, pigeon-chested colonel in a permanent state of empurpled fury.
Joshua McGuire is also very amusing as the advanced Cis endowed with an erect gingery quiff that seems to symbolise his post-pubescent lechery.
But it's the persistent musical interludes, performed by joke-Victorians in curly wigs and striped trousers, that irritate. Farce, they say, is speeded-up tragedy; but here the songs both slow the action down and pointlessly adorn Pinero's still-viable, time-proof play.
The Arts Desk - Veronica Lee
The second act as a whole has, thankfully, a good deal more zip than the first as events move to Posket's court, and everybody has some explaining to do while trying to save their bacon, or somebody else's.
Sheader has given this gentle Victorian farce a look of Restoration comedy, expressed in a magnificent design by Katrina Lindsay, with everybody sporting peruked hair and the pleasing addition of six candy-striped Dandies to the cast.
Their musical interludes tell us the subtext of the play; don't tell even little lies and be kind to your servants are lessons to be taken away from the evening.
Evening Standard - Henry Hitchings
Arthur Wing Pinero's play premiered in 1885 and now feels a little dated. Yet it still has charm.
The play, which has been given a polish by Stephen Beresford, is unapologetically ridiculous.
There's a certain clunkiness, and a few of the jokes are inane. But the more Wildean lines and jolts of wit mean The Magistrate remains likeable seasonal fare.
The Magistrate is on at the National Theatre until 10 February and will be broadcast in cinemas as part of National Theatre Live on 17 January.