£4.5 million boost for local heritage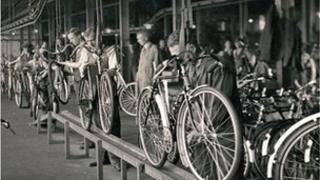 More than 500 groups across the UK are to receive a share of £4.5 million from the Heritage Lottery Fund (HLF) to explore their local heritage.
All Our Stories aims to equip people with the skills to investigate the history of their community.
The grants range from £3,000 to £10,000 and will be given to various groups, including small community organisations and larger heritage charities.
Originally £1m had been set aside for the project.
However, it proved so popular that the investment was more than quadrupled by the HLF to £4.5m.
"These grants seem to have struck a chord," said Dame Jenny Abramsky, chair of HLF.
"Clearly people of all ages and backgrounds and lottery players themselves want to look into and celebrate what has shaped their communities over the years.
"We have been bowled over by the response, and the great news is that we have been able to find the money to support so many fascinating projects.
"We're looking forward to hearing more about the colourful stories that emerge. They will create a unique picture of these islands at an important time in our history."
The grant programme has been developed in conjunction with the BBC Two series The Great British History: A People's History, broadcast earlier this year.
Presenter Michael Wood said it was "fantastic" that people wanted to find out about the "riches on their doorstep".
Cambridge United Football Club, one of the 542 successful projects, plans to use the grant to make a film and produce a smartphone application that will encourage people to explore the club's 100-year history.
Other successful projects include an online archive of photographs and stories of ex-employees of Nottingham's Raleigh Bicycles factory.
Another is a scheme bringing together young people from Stoke-on-Trent to explore the city's history of tile-making and architectural ceramics.