First Aid Kit: A band of contradictions
By Sabrina Sweeney
Entertainment reporter, BBC News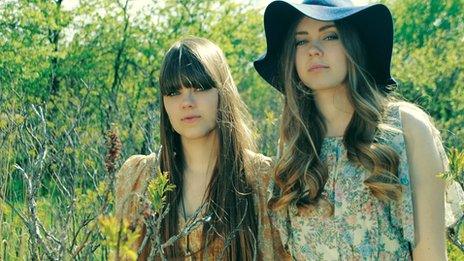 Since releasing their second album, the two sisters who make up First Aid Kit have been on an "insane" ride of sell-out gigs.
Along the way they have garnered praise from musician Paul Simon and supported Jack White on his European tour.
Making music was a childhood "dream" for sisters Klara and Johanna Soderberg. But Klara, the younger of the two, didn't expect success to come so quickly.
"Since the second album, it's been incredible," she says. "We're just surprised and happy. I hope it's because people have found meaning in [the music] and [it has] touched them in some way."
First Aid Kit are a band full of contradictions.
Despite singing about love and loss of the experienced, heavy-hearted kind, the sisters are just in their late teens and early twenties.
Their lyrics are sad, poignant and full of yearning. Yet they also have the ability to be upbeat and uplifting.
"We want our music to be like a helping hand for people, as that's what music has always been to us," says Klara.
"It's always been a consolation to us, so we want it to be like a plaster to your soul. Cheesy, I know!"
Sentimental perhaps, but there's nothing cheesy about the lyrical quality of First Aid Kit's second album, The Lion's Roar.
Produced by Mike Mogis of US indie rockers Bright Eyes, it sees Klara and Johanna, supported by a full band, maturely combine folk and country influences.
The sound of a cast of musicians, many based in Omaha where the album was recorded, marks a departure from the duo's 2010 debut record, the more "intimate" The Big Black and the Blue.
Their father, a musician in the 1980s, plays bass and guitar with the band.
"He's been involved for a long time and has been very encouraging," says Klara. "Both our parents have always been encouraging of us doing creative things.
"When we started making music it was as important to them as it was to us."
Klara, now 19, wrote her first song when she was just six. Fifteen Miles in My Barbie Car didn't make it onto an album but is the only track not to do so - a testament to her writing ability.
"All the songs we've written these years [are] out there on these albums," says Klara. "You have to be very selfish when you're writing a song.
"You can't focus on what anyone else is going to think about it. You just have to sing your own piece of mind and, if you're honest with yourself when you're writing, other people will be able to relate to it.
"There's not a process or method. I usually come up with a line or a phrase that I like. It's more about inspiration and quite spur of the moment."
Growing up in a suburb of Stockholm, the girls spent a lot of time outdoors and were immersed in creativity. According to Klara, they were "always painting [and] writing".
Like many young children, they were particularly influenced by the music they grew up with - an eclectic mix of their parents' tastes and the pop music of their generation.
"Music's always been our passion and it's always been a very big part of our parents lives too," says Klara.
"At home, we heard a lot of Patti Smith and the Velvet Underground. We always sang. We drove our parents crazy, singing and trying to sound like Christina Aguilera."
Emmylou Harris, Gram Parsons, Johnny Cash and June Carter were other inspirational voices and are name-checked on the song, Emmylou.
More surprising, perhaps, is Klara's current "obsession" with Sir Elton John. "He's such a great songwriter and singer," she says.
Over the last few years, First Aid Kit have collected an impressive array of admirers.
They brought rocker Patti Smith to tears with a moving version of her song Dancing Barefoot, while Paul Simon gave them a standing ovation when they covered his hit, America, at an event honouring him earlier this year.
The idea of singing for one of their musical heroes was almost enough to make them reconsider.
"Joanna and I wondered: 'Why are we doing this? Why would we go up in front of our favourite artist of all time and sing our favourite song of his in front of him?'
"It [was] an extremely nerve-wracking experience, but also incredible. Who gets to do that?"
An "insane" 2012 has been mostly spent on the road, which Klara admits is "definitely tiring sometimes".
Like most siblings who share every moment together, the Soderbergs argue "from time to time".
"[We're] like all people who have to spend every single day with each other, especially when you're tired," says Klara. "But it's not a big deal to us, we just move on."
Despite the swell of interest and respect they have earned with The Lion's Roar, First Aid Kit remain extremely grounded.
"We're just the same old sisters," says Klara. "Compared to anything else we could do, I'm not sure I would want to do anything else.
"Every day you get to meet people who think you are really great. That's pretty awesome. It's a pretty good job.
"It gives us confidence when [we] can say Patti Smith likes our version of her song, or Jack White had us on tour. It makes us want to make more music."
After the current tour, the sisters are planning to take some time to work on new music. First Aid Kit, it seems, are only at the beginning.
"In this genre it's better the older you get and the more experience you get," laughs Klara.
"Our dream is to be 70 on stage, like two old grey-haired ladies."
First Aid Kit are currently touring the UK. The Lion's Roar is available on Wichita Recordings.
Related Internet Links
The BBC is not responsible for the content of external sites.