Increased security ahead of Israeli dance show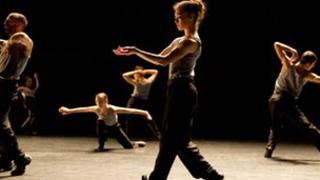 A UK theatre has taken measures to increase security ahead of performances by an Israeli dance group.
Sadler's Wells contemporary dance theatre in London is due to host the Batsheva Ensemble for three nights beginning on Monday.
Batsheva Dance Company is partly funded by the Israeli Government.
A UK-based campaign, Don't Dance with Israeli Apartheid, has so far interrupted 11 of the dance troupe's UK shows since it began touring in August.
Campaigners say they are not protesting against individual Israeli artists but against their government and escalating violence in Gaza.
In a statement to BBC News, Sadler's Wells said security teams present at each night of the performance will carry out bag searches.
Safety
Police will also be monitoring the demonstration outside the theatre.
"We are taking every precaution necessary to ensure the smooth running of the performances," said Alistair Spalding, chief executive and artistic director.
"Our main priority will be to ensure the safety of both our patrons and the performers on stage," he added.
Batsheva Ensemble, the youth troupe of Batsheva Dance Company is due to perform at Sadler's Wells on 19, 20 and 21 November.
Naomi Wimborne-Idrissi from the Boycott Israel Network, part of the UK Don't Dance coalition, said the protests are intended to "reclaim for the Palestinians a tiny piece of the cultural and physical space which Israel has stolen from them".
Earlier this year protesters disrupted a performance by the Batsheva dance troupe at the Edinburgh International Festival.
The show was stopped three times after protests inside the Playhouse Theatre by the Don't Dance with Israeli Apartheid campaign group.
Demonstrations also took place before the show involving about 100 people who sang and burned tickets outside the theatre.
On Tuesday, anti-Israel demonstrators were removed from the Hippodrome in Birmingham after disrupting a performance by Batsheva.