Twilight saga bows out at top of US film chart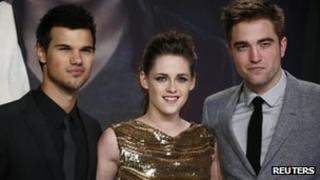 The Twilight Saga: Breaking Dawn - Part 2, the final instalment in the vampire fantasy films, has debuted at the top of the US box office with estimated takings of $141m (£88.6m).
The second film, New Moon, took $142.8m in its first three days in 2009.
Breaking Dawn - Part 2, which is the fifth Twilight film, now ranks eighth in the list of US domestic debuts.
It also took just under $200m (£125m) internationally between Thursday and Sunday in 61 countries.
Breaking Dawn - Part 2 joins New Moon, which sits in seventh place, and the fourth film - Breaking Dawn - Part 1 - at number nine.
Batman is the only other franchise with more than one top-10 opening, with the The Dark Knight Rises and The Dark Knight at number three and number four respectively.
Paul Dergarabedian, an analyst for box officer tracker Hollywood.com, described Twilight as "one of the most consistently performing franchises of all time".
"I thought that for the final instalment, it might eclipse the franchise record, but to look at $141.3m and say that's a disappointment, that's kind of crazy," he said.
The Twilight films, based on Stephanie Meyer's best-selling novels, star Robert Pattinson and Kristen Stewart.
Breaking Dawn - Part 2 knocked Bond film Skyfall off the top of the chart, which fell into second place with $41.5m (£26.1m).
Steven Spielberg's Lincoln was released nationwide following a limited release last week, taking $21m (£13.2m) to secure third position.
Disney animation Wreck-It Ralph and Denzel Washington drama Flight rounded out the top five.