One Direction top UK single and album charts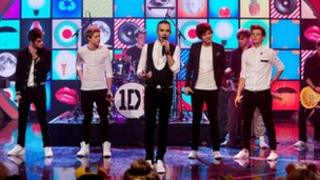 Boy band One Direction have scored number ones in both the UK single and album charts.
Since being put together by Simon Cowell on the X Factor in 2010, the five-piece have enjoyed worldwide fame and success.
Little Things, taken from the chart-topping Take Me Home album, is their second number one single in the UK.
Rod Stewart's festive album Merry Christmas Baby was a new entry at number two.
This was followed by the Rolling Stones album Grr - which reached number three in its opening week - a retrospective of the band as they mark 50 years together.
One Direction's singles success kept Bruno Mars' Locked Out of Heaven off the top spot, entering the chart at two, followed by last year's X Factor winners Little Mix at number three with DNA.
Other new entries in the singles chart included McFly at number 10 with Love is Easy and Ed Sheeran, who wrote One Direction's Little Things, saw his single Give Me Love reach number 18.
Robbie Williams, who topped both charts last week, slipped to number five in the album chart, and out of the top five singles rundown.