Rome Film Festival choice booed by critics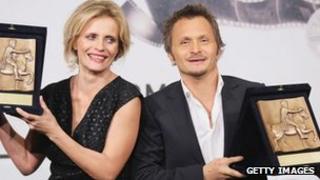 An Italian film which was booed by critics has won two awards at the Rome Film Festival, with the decision dividing the audience.
Paolo Franchi picked up the best director for And They Call It Summer - which deals with sex addiction - while Isabella Ferrari won best actress.
Jury member PJ Hogan conceded that the film had angered some of the jury as it had the audience.
"Good or bad, this film got under your skin," said the Australian director.
He added that "many of you yelled at the screen during it, but many others stood up and applauded at the end."
The best film prize went to Marfa Girl, by US director Larry Clark, known for cult hit Kids.
That film, set in a small town in Texas, will only be available to watch online after Clark opted to shun the typical route of cinema and DVD release, saying it cuts out Hollywood distributors.
In 2002, a planned showing of one of Clark's films was pulled from the London Film Festival after he was arrested for attacking the head of the company distributing it.
Marfa Girl will be shown on Clark's personal website from Tuesday, with a charge of $5.99.
"Most and very soon almost all the small theatres that show indie and art films will be gone," said Clark.
"Every day another goes out of business because everything is digital now and it is quite expensive for the wonderful old smaller theatres to bear the cost of switching to digital."
The Rome Film Festival also saw French actor Jeremie Elkaim win best actor for Hand in the Hand.
Former Venice Film Festival director Marco Muller headed the Rome festival for the first time, although he was criticised for not attracting big name celebrities to the event.