Playboy show lands E! Entertainment £40,000 Ofcom fine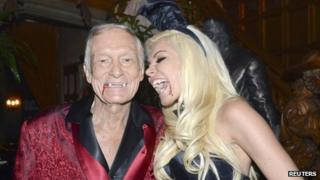 The TV channel E! Entertainment has been fined £40,000 by watchdog Ofcom after broadcasting episodes of Girls of the Playboy Mansion during the daytime.
The reality show episodes, aired in the UK on 27 December 2011, included material that was "unsuitable for pre-watershed broadcast".
As the day fell during Christmas school holidays, Ofcom ruled it was likely children could have been watching.
Rules state that children must be protected by appropriate scheduling.
Ofcom's findings, published on 23 April 2012, found the episodes were "clearly unsuitable for children".
The watchdog's report said they included "prolonged sequences of nudity", albeit with body parts blurred out.
It found episodes showing the search for the 55th Playmate glamour model to be particularly offensive, featuring numerous scenes of the models during casting sessions and at a lingerie party at the Playboy mansion.
The episodes also featured "repeated bleeped and masked offensive language throughout", which Ofcom said demonstrated that the programmes "contained themes of an adult nature and were aimed at an adult audience".
Ofcom added that there were no announcements made to warn viewers in advance about the content, which meant it had not been scheduled appropriately.
A spokesperson for E! Entertainment Television, said the company "regrets the breach of UK broadcasting standards".
They continued: "We have reviewed and enhanced the compliance processes and procedures for E! programming to ensure that we uphold the highest standards expected by Ofcom and our viewers."
E! Entertainment, which also broadcasts Keeping Up with the Kardashians in the UK, had previously been in trouble with Ofcom over two other programmes which featured unsuitable content and the most offensive language before the watershed.
The broadcasting regulator said the channel's breach was serious and repeated and therefore a financial penalty should be imposed.