BBC Today apologises to chief rabbi over Gaza question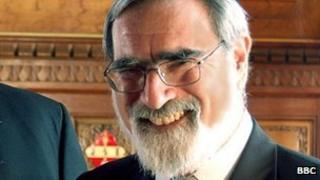 The BBC has issued an apology to Chief Rabbi Jonathan Sacks after he was asked about the Gaza situation while he thought he was off-air.
He was a guest on Friday's BBC Radio 4 Today programme to present Thought for the Day.
Following his slot, presenter Evan Davies asked him about his thoughts on Gaza, to which he responded "I think it's got to do with Iran, actually".
When told he was still on-air he issued a call for a "prayer for peace".
The BBC said it was not the intention to embarrass Lord Sacks.
A BBC spokesman said: "The Chief Rabbi hadn't realised he was still on-air and as soon as this became apparent, we interjected.
"Evan likes to be spontaneous with guests but he accepts that in this case it was inappropriate and he has apologised to Lord Sacks. The BBC would reiterate that apology."
At least 20 Palestinians and three Israelis have been killed since Israel began an offensive against militants in Gaza on Wednesday.
It followed weeks of escalating Palestinian rocket fire and Israeli air strikes on Gaza.
Israel launched air strikes which killed a Hamas military commander. Palestinian militants responded with rocket attacks on Tel Aviv and other areas.