Philip Schofield 'realises his mistake' over stunt says ITV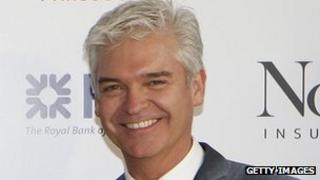 ITV boss Peter Fincham has told ITV News that This Morning presenter Philip Schofield will remain on air, after confronting David Cameron with a list of alleged paedophiles on the show.
Mr Fincham said he had spoken to Schofield who "realises his mistake and lapse in ITV journalism".
ITV News' UK Editor Lucy Manning revealed the exchange on Twitter.
ITV revealed on Thursday it had taken "appropriate disciplinary action" over the incident on 8 November.
Schofield was criticised after handing the prime minister a list of names while live on This Morning, which he had put together from internet rumours.
TV regulator Ofcom has confirmed it is launching an investigation into the programme. It has so far received 415 complaints about the incident.
Meanwhile, John Whittingdale, Conservative MP and chairman of the Commons culture committee, has written to Mr Fincham to ask at what level the This Morning decision was taken, what legal advice was sought and "what subsequent consideration has been given to the appropriateness of this broadcast?"
Mr Fincham said that he would be responding to the letter "very quickly".
'Sincerely apologise'
Ofcom will also look into whether the BBC's Newsnight programme breached standards.
The watchdog will investigate the 2 November edition of Newsnight, which claimed that an unnamed, prominent Conservative politician from the Thatcher era was involved in abuse in north Wales.
Internet speculation surrounding the Newsnight broadcast wrongly implicated former Conservative party treasurer Lord McAlpine.
On This Morning on 8 November, Schofield said he had assembled a list of alleged paedophiles after trawling the internet for three minutes.
The presenter was forced to apologise after the list was briefly exposed on screen.
It is understood they were all figures in the Conservative Party.
A spokesman for ITV said it had now concluded its investigation into the circumstances surrounding the mistake and had taken the "appropriate disciplinary action".
He added: "We sincerely apologise because the way in which the issue was raised was clearly wrong and should have been handled differently.
"We have taken steps to make sure our editorial processes are always properly followed, which was not the case in this instance, and to ensure such an error will not be made again."
'Outrageous stunt'
ITV apologised on the next day's show, but Schofield was widely criticised by the press and Conservative and Labour politicians, who called This Morning "irresponsible and amateurish".
Policing and criminal justice minister Damian Green described Schofield's actions as "tasteless and silly", while Tory MP Stuart Andrew said the ambush was "completely irresponsible and an outrageous stunt".
Meanwhile Lord McAlpine has spoken of his anger at being wrongly implicated by Newsnight, telling BBC Radio 4's The World at One that he should have been contacted before the programme went out.
The BBC has apologised for the report, which prompted director general George Entwistle to step down last weekend.
Lord McAlpine's solicitor Andrew Reid said he hoped a compensation settlement would be reached with the BBC on Thursday.
Ofcom said in a letter to MP Rob Wilson, who had complained to the watchdog about both programmes, that it would also look into whether they breached "standards to prevent unfair treatment to an individual and unwarranted infringements of privacy".