Radio stations 'should play more new acts'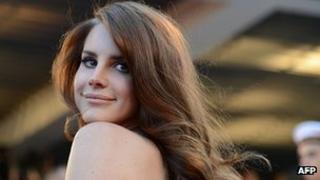 The head of the UK arm of Universal Music, the world's biggest record label, has urged radio stations to take more risks and play more new artists.
David Joseph said nine acts have broken through with 100,000 album sales in the UK this year - down from 27 in 2007.
Just three of those - Emeli Sande, Rita Ora and Gotye - had been "supported well" by radio stations, he claimed.
The others had "very, very little" support from BBC and commercial radio stations, he went on.
Of those, Labrinth is 49th on the list of the most-played artists on UK radio so far this year.
Lana Del Rey is 107th, Michael Kiwanuka is 248th, Maverick Sabre is 260th and Ben Howard is 262nd.
Seven of the nine breakthrough artists were signed to Universal, Mr Joseph said. He did not give airplay details for the Military Wives choir.
"Lana's [got] the third biggest selling album next to Emeli and Adele, and she's the 107th most supported act on UK radio," he told delegates at the Radio Festival in Salford.
"So the question that I throw out there is - is there a responsibility that UK radio has towards supporting exciting new emerging UK-signed talent?"
He said the BBC did an "amazing job" with initiatives like BBC Radio 1's In New Music We Trust.
But he added: "On commercial radio, I often think we have to create the hits first before commercial radio want to play them.
"I do believe there's a whole audience out there who want to hear things first, not 10 weeks later. So I would love to see commercial radio take a few more risks."
Two or three more debut albums may break the 100,000 barrier before the end of the year, Mr Joseph said. But the number of breakthroughs is not likely to reach last year's figure of 19.
"Considering that this is our lifeblood and it creates the new artists of tomorrow, this is something that's of concern to us. It's something we focus on every day, and I hope that you can turn your attention to."
'Important platform'
A BBC Radio 1 spokesman said the station "prides itself on supporting new artists and at least 45% of the music in our daytime schedule is new with a focus on new and emerging artists".
"All of this year's breakthrough acts, bar the Military Wives, have featured on the Radio 1 playlist and been supported across our programming," he said.
"BBC Introducing also provides an important platform for unsigned and undiscovered acts to gain exposure both across BBC Radio and at major UK Festivals."
Commercial radio trade body RadioCentre declined to comment.
Looking ahead to next year, Mr Joseph predicted a resurgence in guitar music.
"I've started to hear more of four-piece guitar bands again," he said. "It feels like we're at the start of a market that's going to break and explode again."