Retired detective becomes TV cop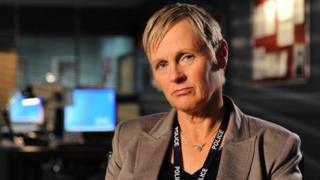 As a detective chief superintendent with Greater Manchester Police, Jane Antrobus was in charge of some of the force's most challenging and high-profile cases.
Now, two years after retiring, Antrobus has swapped real-life drama for a role as a fictional detective in new ITV1 police drama Crime Stories.
The 20-part, semi-improvised series sees Antrobus portray Detective Inspector Jane Preston - a part she won after producers embarked on a search for former officers who wanted to give acting a go.
The show, made on The Bill's old set, is filmed in the style of a fly-on-the-wall documentary, with former Hollyoaks actor Ben Hull playing Detective Sergeant Ben Shaw.
Antrobus has used her three decades of police experience to give the producers advice on making the show realistic - and says she now wants to continue her acting career beyond crime shows.
How much of Jane Antrobus is in Jane Preston?
A lot of it is me but I've gone back to a few ranks lower than I finished in the police. I was detective inspector back in 1998. [But] yes, a lot of it is done with my personality, my style and my knowledge of how to do things.
Did you have any input into the storylines?
No, but I certainly advised if something wasn't true to life or was factually inaccurate. When I read the script or if something on set didn't quite work, I would say, 'why don't we try it this way?' because in real life that's how it would be.
What did you have to correct them on?
Just small things. If, for example, we're in a scene and we're interviewing a suspect, if that suspect's in an interview room, they don't have watches and belts and jewellery on because that's already been taken off them when they're booked in at the custody desk on arrest.
So a couple of times I said, 'No, hang on, she's still wearing a watch or her earrings. That wouldn't happen, let's spend a couple of minutes getting it right.'
How have you found being in front of the cameras?
It certainly was a different challenge. I'm not inexperienced in front of the cameras. I've done quite a lot of high-profile media stuff in the senior detective role I had with GMP. But it's a different style of working.
I come from 30 years of policing and Ben comes from 20-odd years of acting, so we learned from each other.
How much was scripted and how much did you improvise?
Me and Ben got the whole episode breakdown and we are in the majority of the scenes. But it's not a verbatim line-by-line script - a lot of it is improvised.
The guest actors, of which there are four in every episode playing experts, witnesses and victims - they only got their part. So they don't know where they fit into the equation properly or what anyone else is going to say.
Is it realistic?
The vast majority of the guest actors were very, very nervous. I said, 'That is natural because you're used to doing it differently and having scripted lines which you've learned and you're used to knowing how it's all going to unpick from start to finish'.
But those nerves are good feelings to harness. In real life, unless you're a very hardened criminal, it's a harrowing experience for a suspect going into a police station. Likewise for a victim and a witness.
So for an actor to have those feelings in reality comes over on camera as genuine, and you really can tell that the performance of the actor is enhanced.
Is it right that you were the inspiration for DCI Gill Murray, played by Amelia Bullmore, in Scott & Bailey?
I firmly believe that she is based on me - one of the co-creators of Scott & Bailey actually worked for me as an inspector when I was detective superintendent on the major incident team. When people watch it they phone up and say, 'That's just you, that's just you'.
Which are the best and worst police dramas on TV?
I love Scott & Bailey. I always used to like Prime Suspect. I watched The Bill for years - very watchable and good stories and procedurally quite good.
The one thing I know people love but doesn't float my boat is Midsomer Murders. It's in a village with a population of 500 or less, five people die in an episode and two cops solve it all within two hours. It might be watchable and nice easy television but realistically it's very off the mark.
Would you like to do more acting?
I would, yes. I'd like to get into the crime drama advisory field where I'm behind the scenes advising producers or writers on procedures.
I'm realistic. I don't see myself at the Royal Shakespeare Company next week. But I do feel I could play any role, not necessarily a cop role, where a northern actress is required.
Crime Stories is on ITV1 every weekday at 14:00 GMT.