Fifty Shades up for National Book of the Year award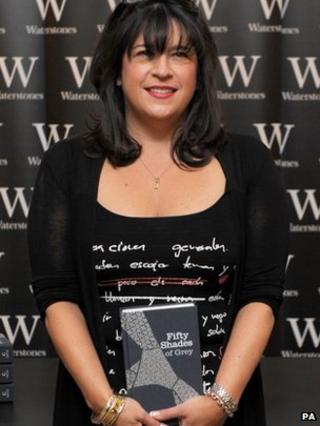 EL James' literary phenomenon Fifty Shades Of Grey has been nominated for a National Book of the Year award.
Dubbed "mummy porn" by the press, the first novel in her best-selling trilogy has sold more than 5.3 million copies and is now the best-selling book in the UK since records began.
It is one of six titles nominated in the popular fiction category, alongside Bernard Cornwell's historical novel 1356 and Kate Mosse's Citadel.
The awards take place on 4 December.
Blockbuster titles such as the Fifty Shades series and JK Rowling's adult fiction debut The Casual Vacancy have dominated headlines this year.
Rowling features in this year's UK author of the year category, which pits her against Man Booker prize-winner Hilary Mantel and Deborah Levy's Booker-shortlisted Swimming Home.
They are competing with Jeanette Winterson's Why Be Happy When You Could Be Normal, John Lanchester's Capital and Zadie Smith's NW.
David Walliams has two nominations, for his latest children's book Ratburger and his autobiography Camp David.
Broadcaster Clare Balding, comedian David Mitchell, The Who star Pete Townshend and author Salman Rushdie are also nominated for their memoirs, alongside Artemis Cooper's biography of travel writer Patrick Leigh Fermor.
Other shortlisted names include Miranda Hart, Caitlin Moran and Michael Palin.
Food books from The Great British Bake-Off star Mary Berry, The Hairy Bikers and fashion presenter Gok Wan also feature on their own shortlist.
"These awards are special because they recognise and reward the authors the public are actually reading and buying," said Amanda Ross of Cactus TV, which runs the awards.
TV presenter Lorraine Kelly will host the ceremony on 4 December.
The winners of each of the 10 categories will then compete to be crowned National Book of the Year, to be announced on 18 December.
Previous winners include One Day by David Nicholls and Caitlin Moran's How To Be A Woman.
This year's shortlists also feature crime bestsellers from Lee Child, Susan Hill, Peter James and Anthony Horowitz, while JoJo Moyes' Me Before You will battle Fifty Shades of Grey for the popular fiction prize.
A Street Cat Named Bob, James Bowen's true-life story about a feline friend, is up for the non-fiction prize alongside Michael Palin's Brazil and Jon Ronson's The Psychopath Test.
Other categories the year's best new writer and best audiobook.