The Killers end Manchester gig after five songs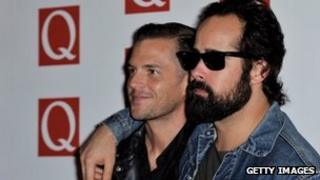 US rock band The Killers had to stop their gig in Manchester on Tuesday after just five songs.
Singer Brandon Flowers told the crowd at the Manchester Arena he could not continue because he had lost his voice.
The group apologised to fans on Facebook and tweeted that Wednesday's show would also be cancelled and that both dates would be rearranged.
The Killers are due to play the O2 Arena in London on Friday and Saturday as well as Wembley Stadium next year.
The Las Vegas band said on Facebook: "Manchester, we started something we couldn't finish and we're so, so sorry.
"Working on rescheduling tonight and tomorrow's shows. Will let you know new dates ASAP."
They added on Twitter: "Both Manchester shows (scheduled for the 13th & 14th) have been cancelled. We will have info about the rescheduled dates very soon."
The audience were said to have reacted well to the bad news.
'Unable to continue'
Kate, from south Buckinghamshire, was among those left disappointed.
She told BBC Radio 5 live: "We queued for hours. I'm an avid fan. I've been to 18 or so concerts. But he's done this before.
"It happened a few years ago in Brixton and he had to cancel Dublin. You could tell he was going. You could tell he was skipping bars out of songs and if you're a fan you just know it."
Dave, who was also at the concert, said: "They did five songs. Halfway through one of the latest songs, he said his voice was going a little bit.
"Halfway through a song he just went: 'Never done this before. Off I toddle.' Then the house lights came up 20 minutes later and that was it."
Manchester Arena said in a statement on its website: "Lead singer Brandon Flowers had to take a break early into Tuesday evening's performance after complaining of a sore throat. Unfortunately, he was unable to continue with the rest of the show.
"The band intend to reschedule both Manchester concerts for next year. Confirmation of the new dates is expected within 48 hours."
The venue advises people to retain their tickets and contact their point of purchase for more information.