Ed Richards is new favourite for next BBC director general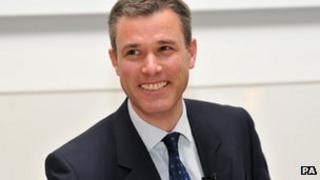 Ofcom boss Ed Richards has emerged as the bookmakers' new favourite to become the BBC's next permanent director general, with the BBC Trust known to be considering external candidates.
Richards, 45, was linked to the job prior to the appointment of George Entwistle, whose resignation after eight weeks led to the appointment of Tim Davie as acting DG.
Richards was a senior advisor to former Prime Minister Tony Blair - his other previous jobs include controller of corporate strategy at the BBC.
As chief executive of media regulator Ofcom he has overseen the regulation of the TV and radio sectors, fixed-line telecoms, mobiles and postal services.
In 2009 The Guardian described Richards as "one of the key architects of Britain's media landscape in the digital era".
Yet others have been less complimentary. In 2003, former director general Greg Dyke famously referred to him as a "jumped-up Millbank oik" at a Royal Television Society conference.
Davie, the director of BBC Audio and Music, is second favourite to land the position according to bookmakers Ladbrokes and Paddy Power.
Both name Caroline Thomson, the BBC's former chief operating officer, as their third favourite to become the corporation's next leader.
Thomson, who was on the final shortlist earlier this year, left the BBC after her job disappeared in a corporate restructure in September.
As she left the organisation she praised the BBC for its "wonderful" programmes, her "brilliant" colleagues and the organisation's "real sense of public purpose".
Other internal candidates who are believed to be in contention include Danny Cohen, the head of BBC One and a former controller of BBC Three.
Yet because Lord Patten, head of the BBC Trust, is thought to favour an outsider, a range of new possibilities has come into view.
According to the Times, one name being "talked up" is Tony Hall, chief executive of the Royal Opera House and the BBC's former director of news.
Other ex-staffers whose names have been mentioned include ITV's director of television Peter Fincham and Channel 4's chief creative officer Jay Hunt, both of whom are former BBC One controllers.
Michael Jackson, a former chief executive of Channel 4 and one of the few to serve as controller of both BBC One and BBC Two, is another potential candidate.
So is Mark Scott, managing director of the Australian Broadcasting Corporation, and Dawn Airey, the former chief executive of Channel 5.
Lord Patten has said a new director general will be appointed within the next few weeks.
One individual who seems to have ruled himself out of the running is David Dimbleby, host of BBC One's Question Time.
The veteran broadcaster told the Daily Mail he was too old to be offered the position, despite there being no age limit attached to the post.