Merchant Ivory composer Richard Robbins dies at 71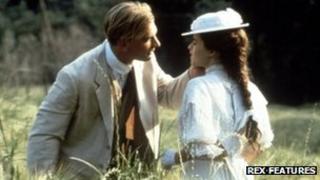 Richard Robbins, the US composer who scored such Merchant Ivory films as A Room with a View, Howards End and The Remains of the Day, has died aged 71.
The two-time Oscar nominee died on 7 November of Parkinson's disease at his home in Rhinebeck, New York.
Robbins scored almost every film made by director James Ivory and producer Ismail Merchant from The Europeans in 1979 to The White Countess in 2005.
He is survived by his longtime partner, composer and artist Michael Schell.
Born in December 1940 in South Weymouth, Massachusetts, Richard Stephen Robbins began studying music at the age of five.
He later taught the daughter of screenwriter Ruth Prawer Jhabvala, who introduced him to her collaborators Merchant and Ivory.
In 1976 he wrote and directed Sweet Sounds, a documentary short about gifted music students that Merchant produced.
That led to a long creative relationship that saw him score both period pieces and contemporary works for the independent film company.
They included EM Forster adaptation Maurice, for which Robbins was recognised at the 1987 Venice Film Festival.
The same year saw him nominated for a Bafta for his score for A Room with a View, also based on a Forster novel.
Robbins received consecutive Oscar nominations in 1993 and 1994 for his Howards End and The Remains of the Day scores.
Speaking about the latter film in 2000, the composer said his inspiration had come from a single scene featuring actress Emma Thompson.
"I find myself very involved with characters' movements in a scene, and I become more and more attached to the characters, and maybe that brings up feelings no-one else intended or considered," he said in an interview on the Merchant Ivory website.
"I know when that moment arrives that the hard part of writing the score is over, because I know how I feel about a character. It can be as simple as watching one of the characters enter a room or walk down a hallway.
"In The Remains of the Day, it happened when I first saw the shot of Emma Thompson walking down the hall toward the camera. That did it."
Robbins' work was celebrated at a 1996 benefit concert held at New York's Carnegie Hall that raised funds for Aids research.
The composer did not work on 2009's The City of Your Final Destination, the only Merchant Ivory production to be made since Merchant's 2005 death.