Trojan Women: Ancient tragedy goes modern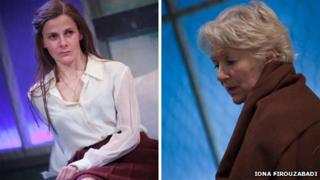 Playwright and poet Caroline Bird explains why she set her new version of The Trojan Women in the mother and baby unit of a modern prison.
For Caroline Bird, 2012 has been a year of extraordinary commissions.
Her Beano-inspired musical, The Trial of Dennis the Menace, premiered in February, while this summer she was one of the official poets at the London 2012 Olympics.
This week Bird's radical retelling of Euripides' The Trojan Women opened in the intimate space of Notting Hill's Gate theatre.
"I went from Beanotown to Troy!" exclaims Bird when we meet at the theatre's offices. "Both are such formidable worlds to do justice to."
Bird's story transports Euripides' tragedy to the contemporary setting of a prison hospital.
Queen Hecuba paces to and from the water dispenser, while the 'Chorus' is a heavily-pregnant woman handcuffed to her bed.
"This is a story about captive women, so it seemed totally natural to set it in the mother and baby unit of a prison," explains Bird.
"During a war babies represent the biggest hope, but they also imply the biggest tragedy: they are being born into a world that's not safe."
The action takes place at the end of the Trojan War. The city is burning, while the city's captive women wait to be told their fate by the Greek victors.
Bird's Trojan Women follows other recent examples of Greek drama moved to the modern day.
Antigone, at the National Theatre, set Sophocles' drama in a 1970s police state, along with references to the raid on Osama Bin Laden compound and upheavals in the Middle East.
While Headlong's current touring production of Mike Bartlett's Medea sees Euripides' spurned heroine as a single mum living on a new-build housing estate.
Commissioned by the Gate's artistic director Christopher Haydon, Bird immersed herself in Greek myths and tried to approach them with a fresh eye.
"I'm not an ancient Greek scholar, I'm a classics enthusiast," she admits. "I wanted people to go to this play and, even if they knew the story, feel like they were hearing it for the first time."
She became fascinated by the Trojan women's attitudes to other women.
"Hecuba blames Helen of Troy for everything, but doesn't mention that it was her son [Paris] that Helen eloped with. He is seen a victim.
"All the way through the women are trying to shift responsibility, not onto the men who actually fought the war, but onto each other."
Among the modern elements that Bird has woven into the narrative - which include smartphones, guns and watercoolers - is the appearance of Athena and Poseidon via a TV screen.
In a casting coup, the bickering Olympian deities are played by Tamsin Greig and Roger Lloyd Pack, of Only Fools and Horses fame.
"They are like celestial broadcasters who don't really care," says Bird. "To have them as these jaded and callous gods was like all my birthdays come at once."
Meanwhile, Louise Brealey (Molly in Sherlock) takes on three roles: the prophetess Cassandra, Hector's wife Andromache and Helen of Troy. Why so?
Bird explains: "It's back to this idea that women try to categorise each other as wives or whores or virgins - I wanted to play with those stereotypes. It felt natural for one actress to play the virgin and the mother and the whore."
This summer, Bird was one of the five official poets at London 2012 Olympics - alongside Carol Ann Duffy, Lemn Sissay, Jo Shapcott and John Burnside.
Her poem, The Fun Palace, which celebrates the life and work of theatre director Joan Littlewood, is on display in the Olympic Park.
"She was one if those figures that changed the face of British theatre but it's horrific how many people haven't heard of her," says the playwright.
With her Olympic duties over Bird is now working on her fourth poetry collection, The Hat-stand Union, which will be published in June 2013.
How different does she find craft of writing a play to a poem?
"For me the closest link between poetry and plays is the silence between the words. You might have three characters in a scene who are all wrong, but the truth is somewhere in the middle, in what's not being said.
"In a poem you are also dancing around the truth, and you can't always can't sum it up without it sounding heavy-handed."
The Trojan Women is at the Gate Theatre in Notting Hill west London, until 15 December.