Crisis at the BBC: Media reaction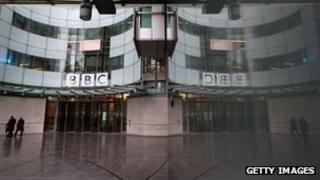 The media is continuing to reflect on events at the BBC, with some outlets suggesting that former director general George Entwistle, who resigned on Saturday, was not fit for the role.
Some commentators have said his successor may be someone from outside the organisation with a fresh approach.
The BBC has begun disciplinary measures against some of those involved in the decision to run a Newsnight report on care homes in north Wales.
The broadcast led to former Tory treasurer Lord McAlpine being wrongly implicated in child abuse allegations.
Entwistle resigned the wake of the Newsnight broadcast, and acting director general Tim Davie has vowed to "get a grip of the situation".
UK reaction
Ben Webster, Dominic Kennedy and David Brown in The Times
"The next BBC director general is likely to be an outsider to ensure that the corporation is given a complete overhaul after the Newsnight scandal, The Times has learnt.
"Lord Patten of Barnes, chairman of the BBC Trust, is understood to want a new director general who is not a BBC lifer like George Entwistle, who resigned on Saturday after 54 days in the job.
"Sources said the chairman was considering making a direct approach to a number of individuals who did not apply for the job rather than advertise it again. Alternatively, he may reconsider the four non-BBC figures who applied for the role earlier this year."
MP Tessa Jowell in The Daily Telegraph
"Politicians should call for decisive action, but must not intervene directly, because BBC independence really matters. Trust is an overused term, but a guarantee of impartiality and accuracy in news and reporting is what the corporation is for.
"Calls for it to be broken up, slimmed down and generally punished have inevitably followed this turbulent period. But to assume that it operates in a normal commercial market is to miss the fact that the BBC is an institution that is sorely needed to counter-balance failures in the market."
Mark Lawson in The Guardian, on Monday night's Newsnight programme
"Newsnight's own woes were allocated 15 of the available 45 minutes, which felt about right.
"And, after several editions on which BBC management had refused to appear, BBC creative director Alan Yentob, looking cool in tortoiseshell spectacles, made soothing comments that sounded slightly like translations of Japanese sonnets: 'Put it this way: I don't think going forward means forgetting where we have been.'"
Ian Burrell in The Independent
"Mr Davie's first act on his first day was to set up a new chain of command at BBC News which had the effect of sidelining the director of news Helen Boaden, who had been one of Mr Davie's rivals in the last race for the director general's job.
"It was a decisive gesture by a fiercely ambitious man who is clearly determined to show from the outset that he is capable of leading from the front. Unlike George Entwistle recently, Mr Davie was able to ride out that storm. Clearly he believes he can cope with much more."
"Lord Patten, who authorised the payment and handpicked the hapless Entwistle (did he deliberately choose a weak man to enhance his own position?), remained in the eye of the storm, with MPs from all parties baying for his head.
"If he is to continue, the very least he must do is give up his numerous other jobs - including the Chancellorship of Oxford University - and devote all his attention to restoring trust in the BBC. A part-time dilettante is the last thing the corporation needs in the face of such a profound crisis."
International reaction
Madeleine Morris in Australian newspaper Brisbane Times
"This whole wailing and gnashing of teeth about how the BBC is fundamentally broken, and how its flagship current affairs programme Newsnight needs to be canned and how trust in the world's most famous public broadcaster will evaporate has to stop. It hasn't, it doesn't and it won't.
"I worked as a reporter on Newsnight over summer last year. The standards of journalism were exceptional. It's not without its flaws - too many middle-class white men in endless discussions about the euro, if you ask me - but the producers, reporters and editors I worked with are among the most experienced, thorough and dedicated I have met."
"BBC journalism has long been the most trusted in Britain, and I suspect it will emerge from the Newsnight affair as still the most trusted.
"The press, currently so pious and pompous about the BBC's mistakes, faces the Leveson report at a very low level of public trust, and unless it learns to deal with its mistakes in a serious and transparent way, that is how it will remain."
Twitter reaction
David Baddiel, comedian and novelist: "Worth remembering that all the people complaining about BBC journalism are journalists."
Chris Addison, comedian: "The BBC should just go dark for a week like Wikipedia. See who's complaining afterwards."