Savile 'engineered' TV shows for child access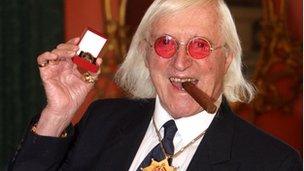 The investigator who exposed the Jimmy Savile abuse scandal has claimed the former BBC DJ "created his television series as a vehicle for his offending".
Mark Williams-Thomas believes programmes such as Top of the Pops and Jim'll Fix It were "engineered" to enable him to have access to children.
His claims are part of a follow-up to the ITV1 documentary that first revealed allegations against Savile.
Police believe Savile may have abused as many as 300 people during 40 years.
Former police detective and child protection expert Mr Williams-Thomas was behind ITV's Exposure documentary about Savile, which aired in October.
It featured claims that the Jim'll Fix It host sexually assaulted teenage girls while working for the BBC.
A follow-up documentary, due to be broadcast on 21 November, claims that ITV's investigators have new evidence to show that Savile was a life-long sexual predator.
In an interview with the Radio Times, Mr Williams-Thomas said television formats such as Savile's Travels gave the presenter access to young people.
"That's why there were so many victims," he said. "In the first programme, we focused on a fairly short time scale.
"Now we're able to show that Savile's offending behaviours spanned four decades and many hundreds of victims.
"This isn't just someone who offended only against 13-, 14- and 15-year-olds. It's someone who offended against 10-year-olds."
A number of individuals are being investigated as part of the police inquiry into claims that Savile sexually abused young people.
These include people who allegedly carried out abuse with Savile, as well as others who are suspected of abusing independently of the presenter.
Former pop star Gary Glitter was the first person to be arrested in connection with the Met Police's Savile abuse inquiry.
Glitter, 68 - real name Paul Gadd - was arrested on suspicion of sex offences and bailed until mid-December.
At the beginning of November police arrested entertainer Freddie Starr on suspicion of sexual offences.
He has denied claims made against him and was bailed after a number of hours of questioning.
Wilfred De'Ath, a former BBC producer, was released on bail after being arrested on Sunday on suspicion of sexual offences.
Mr Williams-Thomas said he expected police to question more people who were connected with Savile.
"I think there will be further arrests over the forthcoming days, weeks and months of people who were party to offending alongside Savile," he said.
"There will also be arrests of people who have got nothing to do with Savile, some of whom will be of very significant standing."
Exposure Update will be broadcast on ITV1 on 21 November.
In a statement, the BBC said it was "horrified" by the allegations that emerged following the broadcast of the original ITV documentary.
"We have announced a review led by Dame Janet Smith into the culture and practices of the BBC during the years that Jimmy Savile worked for the Corporation," the statement read.
"It would be inappropriate to comment further on these matters until the review has been concluded."
Related Internet Links
The BBC is not responsible for the content of external sites.