TS Eliot's widow Valerie dies aged 86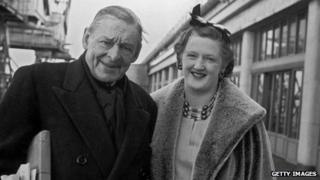 Valerie Eliot, the widow and literary executor of poet TS Eliot, has died at home in London after a short illness, aged 86.
TS Eliot's estate confirmed her death with "deep sadness", after she "died peacefully" at home on Friday evening.
She guarded her late husband's literary legacy following his death in 1965.
Valerie Eliot also allowed Andrew Lloyd Webber musical Cats to be based on TS Eliot's whimsical verses, Old Possum's Book of Practical Cats.
The stage show became a global hit that brought in huge sums for the Eliot estate, and enabled her to create Old Possum's Practical Trust.
It has supported numerous arts and literacy charities and institutions and funded the TS Eliot Prize for Poetry.
Valerie Eliot edited many of TS Eliot's poems for publication, including a much-praised edition of modernist masterpiece The Waste Land.
Age gap
She also edited multiple volumes of letters, giving scholars new insights into the intensely private poet.
Born in Leeds on 17 August 1926, as Esme Valerie Fletcher, she became the poet's second wife in 1957.
They met at London publisher Faber & Faber, where he was a director and she was a secretary who had been a fan of his work since her teenage years.
Friends said the marriage was a happy one despite the almost 40-year gap in their ages.
In an interview with The Independent in 1994 she said "I felt I knew him as a person" from his poems, adding "and evidently I did."
After the US-born Nobel literature laureate died in 1965, his wife became a devoted executor and refused to co-operate with would-be biographers - in keeping with the poet's last wishes.
TS Eliot's first marriage, to Vivienne Haigh-Wood, had been unhappy, and she died in an asylum in 1947.
Valerie Eliot had said: "He obviously needed a happy marriage. He wouldn't die until he'd had it."
The movie Tom and Viv portrayed TS Eliot's first wife as an adventurous spirit neglected by an unfeeling husband, and moved Valerie to defend him.
"Tom tried very hard and for a very long time to make a go of it, and he's never given credit for that, is he?" she said.
A private funeral will be held at their local west London church, according to a death notice in the Daily Telegraph.