Caroline Thomson is a favourite for next director general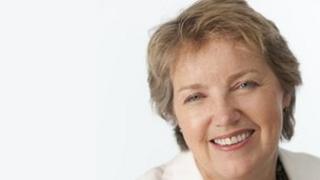 Caroline Thomson has emerged as one of the bookies' favourites to replace George Entwistle who has resigned as director general of the BBC.
The corporation's former chief operating officer left her post in September after failing to nail the top job in July.
Ladbrokes is offering 5/2 odds on Ms Thomson, while Paddypower has offered even-odds on Ofcom boss Ed Richards.
Tim Davie has been appointed as acting director general.
The director of BBC Audio and Music is close behind Mr Richards on odds of 2-1, with director of news Helen Boaden and Danny Cohen, the head of BBC One, also mentioned as possible contenders.
Ms Thomson began her career at the BBC as a journalism trainee in 1975, going on to produce a range of BBC radio and television series, including BBC Radio 4's Analysis and BBC One's Panorama.
She left the BBC in 1984 and joined Channel 4, rising to head of corporate affairs, before returning to the BBC in 1996 as deputy director of the World Service.
Ms Thomson held the post of chief operating officer from 2006 until September, when she left praising the BBC's "wonderful programmes, brilliant colleagues and a real sense of public purpose".
Ofcom boss
Mr Richards is currently the chief executive of media regulator Ofcom. William Hill have offered odds of him being offered the job at 10/11.
In 2009, Ofcom fined the BBC a record £150,000 over the "Sachsgate" row - the ruling described messages left by BBC presenters Jonathan Ross and Russell Brand on actor Andrew Sachs's answering machine, as "gratuitously offensive, humiliating and demeaning"
In February this year, Mr Richards gave evidence at the Leveson inquiry into the ethics and practices of the press and said financial penalties that Ofcom can impose did have a "chilling effect" on the bad behaviour of broadcasters.
"It focuses the mind, has a reputational impact, has an economic impact and is a very effective deterrent," he said.
Mr Richards - who worked for both Gordon Brown and Tony Blair at number 10 - was famously referred to by former director general Greg Dyke as a "jumped-up Millbank oik" at a Royal Television Society conference in 2003.
Acting DG
Prior to joining the BBC as head of the marketing division in 2005, Cambridge graduate Mr Davie was a senior European marketing executive for PepsiCo.
He made the move to head up the radio and music division in 2008.
In 2010 he was responsible for the decision to axe digital station 6 Music. Writing in a blog, he said he was "passionate" about 6 Music, but conceded the station should still be axed.
He said the BBC "didn't arrive lightly at the decision", but he was "confident" the plans would work.
He also suggested Asian Network and several websites should close.
The announcement led to an unprecedented campaign to save the station, which generated over 60,000 petition signatures and 50,000 complaints to the BBC trust.
Protests were also held outside Broadcasting House.
The station was given a reprieve and went on to be named UK station of the year at this year's Sony Radio Academy Awards.
The BBC's director news Helen Boaden, who was appointed in 2004, was another unsuccessful candidate when Mr Entwistle secured the job in July this year.
She has been embroiled in the row over Newsnight's dropped investigation into abuse allegations against Jimmy Savile after Mr Entwistle told MPs that she had told him about the programme, whilst he was still director of Vision - at an award ceremony on 2 December 2011.
Ms Boaden is expected to be questioned by Nick Pollard during his investigation into any possible failings of BBC management.
Other outside bets for the new director general include Danny Cohen - who became the youngest ever controller of BBC One in 2010 . Prior to that, he was controller of BBC Three where he twice won digital channel of the year at the Edinburgh International TV Festival.
Ladbrokes have offered odds of his landing the role as 9/1 while Paddypower had him at 20/1.
According to the Guardian, ITV's director of television Peter Fincham, a former controller of BBC1 and former chief executive of Channel 4 Michael Jackson are also potential candidates.
Lord Patten, chairman of the BBC Trust said a new director general would be appointed within the next few weeks.