George Entwistle: Media reaction to his resignation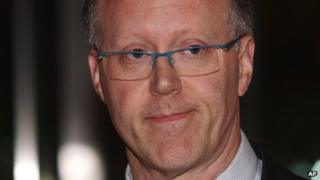 The media has reacted to the news that BBC director general George Entwistle has stepped down just 54 days into the job, in the wake of the Newsnight child abuse broadcast.
Mr Entwistle said that he was "ultimately responsible for all content, and in the light of the unacceptable journalistic standards" he would quit.
UK reaction
"The organisation has become so bloated and distorted that its most crucial duties were overlooked. At a time when Newsnight was dominating the national news agenda, the Director-General should have asked every morning what was on that evening's programme. The excuse being rolled out by his defenders - that the BBC produces too much content for the Director-General to see everything - doesn't wash."
"He acquired an unfortunate reputation for lack of curiosity, albeit one that, to his credit, he owned up to, first in Savile and now McAlpine, by not asking the right questions. As editor in chief, he had a phalanx of communication staff at his disposal. Curiosity and a nag nag nag habit of asking questions are prerequisites for good journalism that withstands scrutiny. And no editor, no matter how grand, should expect to survive without that attribute."
"George Entwistle, a decent man, has done the decent thing by resigning so rapidly as Director General. In truth, he had little option after his humiliating display on yesterday's Today programme, in which he looked both out of touch and out of his depth for the second time in his short tenure at the top. But this does not cure the deep-rooted problems corroding our national broadcaster.
"Once again, the BBC has displayed an unerring ability not just to shoot itself in the foot but to machine-gun itself in both legs. The failure to run a Newsnight investigation into predatory sexual behaviour by one of its biggest stars was forgivable. But amid justified outcry, to broadcast an investigation into abuse by a prominent political figure that would shame a student newspaper for its cavalier incompetence was beyond belief."
Ian Birrell in The Independent
"There are rumours that Jeremy Paxman may now quit Newsnight, thereby bringing down the show. The corporation is in meltdown, so anything is possible. For now Tim Davie, the BBC audio and music chief, will stand in. But the next BBC director-general will simply have to be an outsider, given the culture change which is so glaringly needed in the BBC's management. You just can't go for another remote corporation bureaucrat. This was obvious to anyone listening to the Humphrys interview (which, in exposing the BBC at its worst, also showed the BBC at its best)."
Fraser Nelson in The Spectator
"On its own, the McAlpine scandal would have dumped any DG into a massive crisis. But coming so soon after the BBC's mishandling of the Savile scandal and the spiked Newsnight investigation, it turned into a catastrophe.
"George might have survived had he handled the first Newsnight row better. Or if he'd learnt from his mistakes. He did neither."
Former BBC editor Kevin Marsh in The Daily Mail
"It was painful to hear the head of the BBC skewered by one of his own journalists. Humphrys' jaw audibly dropped as Entwistle admitted he was "out" when Newsnight smeared innocent Lord McAlpine as a paedophile. There was disbelief as he confessed he was last to know the scurrilous claim was false.
"From anyone else, such an admission would beggar belief. But to those of us watching his shambling incompetence over the Jimmy Savile scandal, it sounded spot on. Despite having once edited Newsnight, he was entirely at sea. Entwistle's job was to look after the BBC in troubled times. He was never up to it."
International reaction
"With Entwistle gone, the scandal also looks set to sweep across the Atlantic. The decision to run three tributes to Savile rather than an exposure of his sexual abuse was made when Mark Thompson was editor in chief. Sources close to the story tell The Daily Beast that Thompson's claims that he knew little about the cancellation of the initial inquiry might not withstand scrutiny, and—as two New York Times columnists have written recently—his journalistic legacy has been severely questioned since his appointment as CEO of the New York Times this summer.
"Mark Thompson takes up his new post in New York on Monday—when the travails of his former employer might well be making the front pages of his own paper."
Peter Jukes in The Daily Beast
"It was, undoubtedly, a media label George Entwistle did not like: 'Incurious George.'
"But similar to the popular children's book character by almost the same name, it stuck, and that image of him, fair or not -- as passive, detached, uninterested -- helped force Entwistle to resign after just 54 days after taking the helm as director general of the British Broadcasting Corporation."
"If not airing the Newsnight show got the BBC into hot water, the episode they have just shown has them at boiling point.
"The Jimmy Savile scandal is in the experts' opinion the biggest crisis to hit the BBC and it is hitting the corporation hard. Director General George Entwistle has admitted that the BBC has not got anything right since this scandal broke. Public trust has plummeted, too. A recent poll found that now only 47 per cent of the public think the BBC is trustworthy, compared to 62 per cent in 2009."
Iranian English-language Press TV
Twitter reaction
Lord Sugar, star of The Apprentice "George Entwistle steps down as DG. Shall I take the post ?"
Dara O'Briain, comedian and TV host "Never sure what problem is solved by resignations like George Entwistle's."
Miranda Hart, comedian and actress "Not that this is relevant in a worrying wider picture, but I really blooming liked George Entwistle."