Bill Tarmey: Tributes to Coronation Street star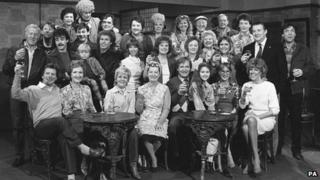 Coronation Street stars past and present have been paying tribute to Bill Tarmey, who played Jack Duckworth in the soap for more than 30 years.
Nigel Pivaro - Terry Duckworth
"I am devastated to learn of the passing of someone who became a huge part of both my professional and personal life, who I came to look on as a second father. He was a very wise and dignified man who taught me a great deal and whose counsel I came to value greatly.
"He was a lovely man who cared deeply for his family and friends. We are all rightly bereft at the loss we will feel knowing that the world will be a little poorer without Bill to lighten it up with his warm humour."
Liz Dawn - Vera Duckworth
"Bill was part of my family. When you work with someone for so long as we did it becomes more than just work. Our families were close and I am devastated for Ali and his family.
"I am totally bereft. He will always be remembered by everyone he came into contact with because he was such a kind and generous man. You couldn't wish to meet a more lovely man and a true gentleman. He was a gentle giant and I will miss him so much."
William Roache - Ken Barlow
"Over the years Coronation Street has produced characters who are really powerful and legendary - Jack Duckworth was one of those. He was the downtrodden loveable rogue who never got anything right, but was loved by everyone. This was down to Bill Tarmey's incredible skills as an actor, he had amazing comic timing and was a genuinely warm and wonderful human being."
Antony Cotton - Sean Tully
"He was a proper gentleman - he was a really kind soul and a good man. As well as being a friend, he was really funny.
"Bill and Liz [Dawn] were such fantastic actors that the audience just completely bought into them. They were like a couple that you knew. You weren't sure if you were hearing them through your television or through the wall to next door. It was like they were part of your lives. It was like they were your real neighbours."
Michael Le Vell - Kevin Webster
"Bill met my Dad briefly when I first joined Coronation Street. And when my Dad passed away Bill became like a surrogate Dad to me. He and Liz looked after me and got me through those early days and we've been friends ever since. My heart goes out to Ali and his family. We knew Bill was poorly, but this is still a very great shock. I am going to miss him very much."
Julie Goodyear - Bet Lynch
"This news is so very sad, not just for me but for all his other friends and of course his wife Ali, and all his family. This wonderful man will be sadly missed."
Samia Ghadie - Maria Connor
"Bill was one of those people who after meeting once you felt like you had known him your whole life. A very special, funny, wise and kind man. I will cherish my memories of him. Sending all my love and thoughts to Ali and the family. Love you Bill xx"
Jennie McAlpine - Fiz Stape
"Very sad to hear the news about Bill Tarmey. I feel so honoured to have known and worked with him. He was a true great."
Jane Danson - Leanne Battersby
"Bill was one of the loveliest men you could ever wish to meet. He was the first to come over on my first day at work. It was quite daunting meeting icons like Bill and Liz but they made me feel very welcome and at home. Everyone felt as if they knew Bill because he had such a warmth about him on and off screen."
Charlie Condou - Marcus Dent
On Twitter: "I am devastated to hear that the wonderful Bill Tarmey has died. He was a beautiful, funny and lovely man, and he will be missed by us all."