Seven Stories book centre given national status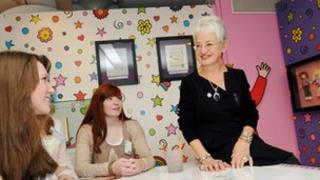 Newcastle's noted Seven Stories book centre is to be renamed the National Centre for Children's Books, Arts Council England has confirmed.
Seven Stories is the only museum in the UK that specialises in children's literature.
The centre opened in 2005 and hosts exhibitions and learning programmes.
Author and patron Jacqueline Wilson said she was "delighted" and praised the centre's "excellent comprehensive and creative work".
"It's established a wonderful exhibition programme to delight families and built up an outstanding archive of children's literature," she added.
The collection contains literature from the 1930s to present day, including the work of more than 100 authors such as Philip Pullman, Judith Kerr and Enid Blyton.
In 2011 a trust set up in Blyton's name donated £750,000 to the centre.
Amongst some 30,000 books are first drafts, dummy books, illustrations and related correspondence.
The new name was arrived at after a period of assessment by the Arts Council. The new name means it the only museum in the North East with 'National' in its title.
Chief Executive at Seven Stories, Kate Edwards, thanked everyone who has given funding and support.
She said, "We will work hard to meet the expectations and responsibilities that National status brings us.
"The title does not automatically bring new funds, so support from our friends to help us to save, celebrate and share our literary heritage for children with children and families today, and for future generations, will be important in the years to come."