Jermaine Jackson asks court to change name to Jacksun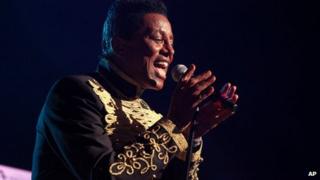 Jermaine Jackson has asked a court in Los Angeles if he can legally change his famous surname to Jacksun.
The older brother of the late Michael Jackson filed a name change petition on Tuesday, citing "artistic reasons".
A friend of singer Jackson, Steve Dennis, spoke on his behalf stating it was not unheard of for artists to change their names.
A hearing has been scheduled for 22 February 2013 to decide whether Jackson can become Jacksun.
Dennis told the court: "Phonetically, it changes nothing. It is something he has chosen to do."
"It's fair to say that you cannot blame this one on the boogie, you've got to blame it on the sunshine," Dennis added in a play on the Jackson 5 hit Blame it on the Boogie.
Jackson has toured with his brothers in recent months on their Unity Tour 2012, as well as promoting his book You Are Not Alone, about his brother Michael.
In August he called for an end to the Jackson family's feud over his late brother's estate.
At the time he said in a statement: "After much soul-searching, it is clearly time for us to live by Michael's words about love not war."