Sir Peter Hall apologises to Downton star for disrupting play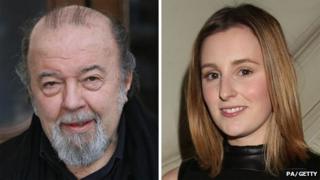 Director Sir Peter Hall has apologised to Downton Abbey actress Laura Carmichael after he "unintentionally disrupted" her West End debut.
Audiences at the opening night of Chekhov's Uncle Vanya on Friday heard Sir Peter speaking in the stalls during the play's final scene.
Reports over the weekend suggested Sir Peter had been "heckling" the actors.
In a statement, however, the 81-year-old said he had been "disorientated" after falling asleep.
"I am mortified that I unintentionally disrupted the final scene of Uncle Vanya and I have sent a personal note to Laura Carmichael offering my apologies," Sir Peter said.
"I enjoyed the evening, and her performance, immensely, and I cannot stress too strongly that my remarks were in no way directed at her or the production."
The distinguished director added: "Being rather aged I dropped off for a moment and on being woken by my wife I was briefly disorientated.
"Remarks made in the resulting confusion were not in any way related to Uncle Vanya, which I think is a very fine production with a marvellous company of actors."
Carmichael, who plays Lady Edith Crawley in ITV1 drama Downton Abbey, was making her first appearance in London's West End in a new version of Chekhov's classic at the Vaudeville Theatre.
The actress continued to deliver her emotional closing speech despite the disruption. She then joined the rest of the cast - including Ken Stott, Anna Friel and Samuel West - for the curtain call.
Newspaper reports on Sunday suggested that Sir Peter had heckled Carmichael from the stalls with the words: "It doesn't work and you don't work. It is not good enough. I could be at home watching television."
BBC reporters who attended the opening night said there was confusion in the auditorium as to who had spoken and the nature of what was said.
'Delicately impressive'
Critics have been mainly positive about the play, with the Daily Telegraph's Charles Spencer noting in his four-star review that "some of the actors occasionally seemed strained and jumpy".
"But there is already a great deal to admire and I suspect the production will gain in depth and detail as the run continues."
The Guardian's Michael Billington gave the production three stars, describing it as "solidly capable rather than genuinely inspiring".
In The Stage, Mark Shenton praised Carmichael's "delicately impressive West End debut as the wounded Sonya".
"I was delighted that Peter Hall and a host of great actors - Idris Elba, Rhys Ifans and stars from Downton Abbey - attended the opening night of Uncle Vanya," said Nica Burns, owner of the Vaudeville.
"I left the auditorium with Sir Peter and Lady Hall and he was applauding enthusiastically and shouting 'Bravo!' He clearly had a great evening."
Sir Peter founded the Royal Shakespeare Company in 1961 and was its artistic director for eight years. He went on to spend 11 years as director of the National Theatre.
The current series of Downton Abbey concluded on ITV1 on Sunday night.