The Only Way Is Essex in breach of Ofcom rules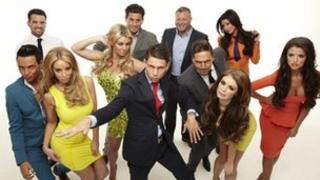 ITV has been censured by Ofcom after it broadcast an episode of The Only Way Is Essex deemed unsuitable for children in a lunchtime slot on a Sunday.
The episode, on ITV2 at 13:00 BST on 12 August, featured conversations between characters involving "adult themes and sexual references".
Ofcom said the show broke scheduling rules put in place to protect children from unsuitable material.
ITV said it would no longer broadcast the show in weekend daytime slots.
It also said it would not schedule it in school holiday daytime slots, when children are more likely to view it unaccompanied.
During the episode, characters spoke about their sex lives and excessive drinking.
The half-hour programme - which is usually broadcast at 22:00 - also had to be edited with bleeps to mask offensive language 20 times.
ITV argued the conversations broadcast in the show were not sexually explicit and the 20 language edits "were not excessive in the context of the programme" following real people.
Ofcom said the prominence of sexual discussion and the frequency of masked language made the programme unsuitable for children and not suitable for broadcast at 13:30 BST on a Sunday during the school holidays.
Love Shaft
Elsewhere, Channel 4 was also found to have broken the same Ofcom rules after broadcasting a speed dating series on a Saturday morning.
Love Shaft, set in a lift, follows a contestant who is presented with a series of potential dating partners as the lift stops at different floors.
Ofcom received complaints over episodes broadcast on its T4 strand at 10:35 BST on 2 and 9 June and 09:50 BST on 23 June which all featured sexual references.
One episode showed a contestant lying naked on a sofa with only a pineapple covering his genitals while his potential date painted a picture of him.
Other episodes showed male contestants used crude language to describe their ideal woman and parts of their body.
Channel 4 said the tone of the programme - originally broadcast in a 19:30 timeslot - was "cheeky, witty and full of entendre and risque banter" and would not have gone "beyond the generally accepted standards" of its T4 audience.
However Ofcom said the words used in the show were "plainly sexual" conveying a continuing sexual theme unsuitable for children and consequently, to be broadcast at that time on a Saturday morning.