George Lucas to make 'little personal films'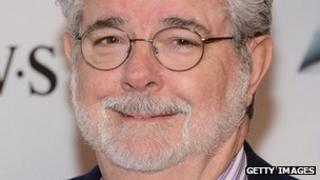 Star Wars creator George Lucas says he plans to make "little personal films" now that he has sold his Lucasfilm empire to the Disney studio.
His declaration follows the release of this year's Red Tails, a World War II drama about a black fighter pilot unit that he executive produced.
"I barely got Red Tails into theatres," he said. "The ones I'm working on now will never get into the theatres."
Disney bought Lucasfilm in a $4.05bn (£2.5bn) deal last week.
Speaking to reporters at a New York event on Friday, the director and producer admitted mixed emotions about selling off his company.
"It's very sad," the 68-year-old said. "It's 40 years of work and it's been my life, but I'm ready to move on to bigger and better things."
Lucas will remain a creative consultant at Lucasfilm, with overall control will be handed over to Kathleen Kennedy, the producer of Jurassic Park, War Horse and others.
Last week's deal allows for three more Star Wars films to be made, though Lucas said he would not be involved with picking a director.
"I've turned it over to a wonderful producer, Kathy Kennedy, and I've known her for years," he said. "She's more than capable of taking it and making it better than I did."
Kennedy was announced as the producer's successor in June when he first detailed plans to step down as head of his self-titled company.