Jo Longhurst wins $50,000 photography prize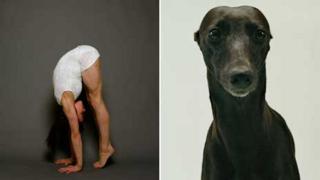 A Briton has been named the winner of the Grange Prize, a Canadian award that recognises the best in international contemporary photography.
Jo Longhurst, from Essex, beat three others to the $50,000 (£31,000) prize, one of few determined by a public vote.
The Royal College of Art graduate won on the strength of two bodies of work, Other Spaces and The Refusal.
The first comprises striking portraits of elite gymnasts, while the second contains pictures of whippet show dogs.
Longhurst, who has exhibited extensively across the UK and Europe, received her prize at a ceremony held at the Art Gallery of Ontario on Thursday.
The other finalists - fellow Brit Jason Evans, Emmanuelle Leonard from Montreal and Annie MacDonell from Toronto - each received $5,000 (£3,100) for the research, creation and production of new work.
Voting began 10 weeks ago online and in person at Canada House in London and the Art Gallery of Ontario, where exhibits of all the nominated photographers' work are on display until 6 January.