Royal Academy to host Australian art exhibition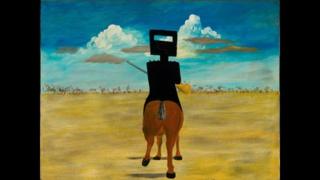 The Royal Academy has revealed details of a major exhibition of Australian art it will host next year.
Billed as the first of its kind in the UK in more than half a century, Australia will bring together around 180 paintings, photographs and prints.
Impressionists, Early Modernists, 20th Century painters and Aboriginal artists will all be represented in London.
Organised with the National Gallery of Australia in Canberra, the exhibition runs from 21 September to 8 December.
Albert Namatjira, Emily Kame Kngwarreye, Arthur Streeton and Sidney Nolan will be among some of the Australian household names whose work will be featured.
According to the Academy, it will "consider the tensions both real and imagined between the landscape as a source of production, enjoyment, relaxation and inspiration [and] as a place loaded with mystery and danger".
The Australia exhibition will follow such other high-profile events as a major survey of Manet's portraiture and a look at Mexican art between 1910 and 1940.
There will also be an exhibition dedicated to architect Richard Rogers, creator of such internationally landmarks as the Pompidou Centre in Paris and the Millennium Dome.