Fans divided over Star Wars saga announcement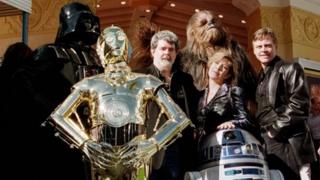 The Disney studio's announcement that it is to continue the Star Wars saga following its $4.05 billion (£2.5bn) purchase of George Lucas's Lucasfilm company is the talk of Hollywood, and beyond.
Given the beloved, cherished and iconic status of the original Star Wars trilogy, with its robots, space battles and lightsabre duels, that is only to be expected.
Some fans are up in arms at the 'House of Mouse' getting its hands on a series that left such an indelible mark on their collective imaginations.
"Disney own too much already," complained one BBC News website reader, while another predicted the deal would leave "the biggest film franchise in the world totally ruined".
Yet scepticism is sure to be tempered by the accepted knowledge that the Star Wars prequels Lucas made between 1999 and 2005 were irrefutably inferior to their illustrious predecessors.
"To be fair, I was saying Lucasfilm was a Mickey Mouse outfit back in 1999," joked comedian Simon Pegg on Twitter, though in a subsequent posting he suggested it was "actually good news for Star Wars fans".
The acquisition of Lucasfilm is clearly a statement of intent from a studio that already has animation powerhouse Pixar and comic book giant Marvel under its roof.
Yet the studio's record when it comes to science-fiction is patchy at best, as evidenced earlier this year by the big-budget disappointment that was $250 million (£155m) Martian epic John Carter.
"Looking forward to seeing what exciting new Star Wars adventures will be cooked up by the dream factory that brought us Mars Needs Moms!" tweeted Family Guy creator Seth MacFarlane, referring to another Disney-backed letdown with a fantastical theme.
Lucas has hardly been consistent either when it comes to his famous creation. As recently as 2008, he had ruled out the possibility of the series continuing.
"I've left pretty explicit instructions for there not to be any more features," he told the UK's Total Film magazine. "There will definitely be no Episodes VII-IX."
In a statement released this week, though, the 68-year-old sings a different tune, claiming he had "always believed that Star Wars could live beyond" him.
"For the past 35 years," he said, "one of my greatest pleasures has been to see Star Wars passed from one generation to the next."
Nine-movie cycle
You do not need to be a Jedi knight to know that the original Star Wars trilogy - released between 1977 and 1983 - was envisioned by Lucas as the central chunk of a nine-movie cycle.
This notion was reinforced by a caption - added after the first film's initial release - declaring it to be 'Episode IV' in an evolving saga.
1980's The Empire Strikes Back and 1983's Return of the Jedi picked up the action, following the fortunes of young hero Luke Skywalker, cocky pilot Han Solo and the feisty Princess Leia as they battled against the nefarious Emperor and his masked henchman Darth Vader.
The result was a global phenomenon that, according to tracking website Box Office Mojo, has grossed $3.3 billion (£2bn) worldwide once figures have been adjusted for inflation.
For Star Wars fans, though, alarm bells began to ring when Lucas announced he was releasing "special editions" of the original films that would incorporate new footage and correct old flaws.
The results left many devotees unimpressed, not least by what they saw as an unjustified tinkering in material that was fine the way it was.
In the original Star Wars, for example, Harrison Ford's Han Solo dealt with alien adversary Greedo by blasting him with a laser pistol concealed beneath a table.
In the special edition a laser bolt was added to create the impression that Greedo shot first, turning what had been a pre-emptive strike on Solo's part into an act of self-defence.
Qualms about Lucas rewriting history did not stop the special editions of Wars, Empire and Jedi performing strongly at the international box office.
Not only that, but they also stoked anticipation for the next chapter in the saga - a trilogy of Star Wars prequels that would trace the early life of Darth Vader and how he "turned to the dark side".
The Phantom Menace, aka Episode I, took the world by storm in 1999 and went on to become the most successful film released that year.
Already, though, there was a groundswell of dissatisfaction, with many expressing concerns over the film's characters, story and extensive use of special effects.
On a more serious note, it was also suggested that the film's supporting characters - alien comic relief Jar Jar Binks for example, or Tatooine slave owner Watto - drew on unflattering ethnic stereotypes.
Variety's Todd McCarthy was among the dissenters, bemoaning a film that was "neither captivating nor transporting" and lacked "any emotional pull".
The casting of Hayden Christensen as the young Darth Vader in 2002's Episode II - Attack of the Clones gave acolytes another target for their opprobrium.
And while 2005's Episode III - Revenge of the Sith was generally regarded as a partial return to form, the trilogy as a whole has come to be seen as a missed opportunity.
Since that movie's release, Star Wars activity has been largely limited to The Clone Wars animated TV series and a 3D re-issue of The Phantom Menace.
This has not stopped Disney from announcing a continuation of the saga, to begin in 2015 with an "episode seven" that will be followed in due course by eighth and ninth instalments.
According to Lucas, who will act as creative consultant on the new movies, the deal will allow Star Wars to "live on and flourish for many generations to come".
Having been burned once before, fans of the series may well prefer to reserve judgement and approach with caution.
Having played the young Obi-Wan Kenobi in the three prequels, though, Ewan McGregor is among those prepared to take a more optimistic view.
"Disney have bought Lucasfilm and are planning on releasing Star Wars ep 7 in 2015!!" the actor tweeted on Tuesday.
"Congrats George and best of luck with whatever is next. Wonder if they will need any Obi-Wan Hologram action?"