Will Ferguson wins Canada's Giller Prize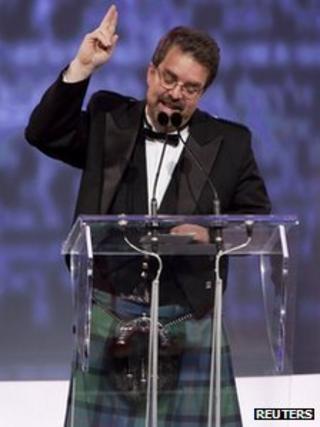 Humorist and travel writer Will Ferguson has won the Giller Prize - Canada's most prestigious and lucrative literary award.
The author won the 50,000 Canadian dollar (£31,000) prize for his novel 419, about a woman who becomes embroiled in a Nigerian email scam.
The judges, which included Irish writer Roddy Doyle, praised Ferguson for being a "master at dialogue and suspense".
Past recipients have included Booker-winner Margaret Atwood and Alice Munro.
Last year's Giller Prize was won by Booker-shortlisted Esi Edugyan for her novel Half-Blood Blues.
Better known for his travel writing and comedy, Ferguson has won the Stephen Leacock Memorial Medal for humour writing three times.
419 is a dark novel that focuses on a woman searching for the culprits behind her father's death.
"Will Ferguson's 419 points in the direction of something entirely new: the Global Novel," the judges said.
"It is a novel emotionally and physically at home in the poverty of Lagos and in the day-to-day of North America.
"It is tempting to put 419 in some easy genre category, but that would only serve to deny its accomplishment and its genius."
Reflecting his Scottish heritage by wearing a kilt to the awards ceremony in Toronto, Ferguson pulled out a flask during his acceptance speech and raised a toast to the written word.
"I'd like to thank my long-suffering editor for supporting my possibly ill-advised shift to fiction," he said, going on to reassure the audience he had something on beneath his kilt.
The author is likely to see sales increase for his novel in a post-awards boost known in Canada as "the Giller effect".
Ferguson's book beat four other shortlisted titles: The Imposter Bride by Nancy Richler, Inside by Alix Ohlin, Ru by Kim Thuy and Whirl Away Russell Wangersky.
This year's jury read some 140 books submitted for the prize, set up in 1994 in memory of Canadian literary journalist Doris Giller.