Sadler's Wells boss says dance 'under threat'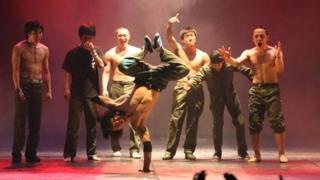 Dance company Sadler's Wells has claimed government plans to leave dance out of the new EBacc syllabus will be "deeply damaging" to the art form.
The EBacc certificate, set to replace some GCSEs from 2015, will focus only on core academic subjects.
Sadler's Wells chief executive and artistic director Alistair Spalding said the plans were "the most serious threat" dance has recently faced.
But he said he was hopeful there would be a U-turn by the government.
He and several other executives from major arts companies, including the Royal Ballet and the English National Ballet, have written to education secretary Michael Gove asking him to reconsider.
The GCSE exam in England is going to be replaced in core subjects by the new qualification called the English Baccalaureate Certificate - EBacc or English Bacc for short.
A Department of Education spokeswoman said: "Other subjects are, of course, valuable and pupils will continue to study them - the EBacc will not prevent any school from offering qualifications in dance, art, drama or music."
But speaking at Sadler's Wells' annual press conference, Spalding said they were "concerned" about removing young people's access to the arts.
"We are currently reaping the rewards that the investment in dance education has brought us," he said.
"Many of the choreographers and dancers that we work with at Sadler's Wells have benefited from early exposure to the art form. The route to a career in dance is now under threat."
Spalding added that dance is currently "thriving" with young people getting involved at "an unprecedented level".
"Dance is now second only to football as the most popular activity amongst school children and ranks first among girls," revealed Spalding.
"Five million Britons of every age and class and both genders are now participating in dance classes every week. The predominance of dance in the Olympics ceremony shows how rewarding and involving it can be. It will be deeply damaging to reverse this investment."
Spalding said education was actually the most important factor when looking to the future.
"It's more important than money in terms of investment in the arts - that young people have access, not only to participate in dance, but also to come and see dance and make it part of their lives."
He continued: "It's a backwards step to take it out of the core and say that people should only be studying academic subjects.
"We need to be creating whole young people who are good at all of those things and the arts is a very important part of people's lives, it's enriching."
Spalding said he and other arts leaders are now meeting regularly and were "hopeful", especially after recent "small victories" such as the government's U-turn on plans to impose a ceiling on tax-free charitable giving.
"I think if we get together as an arts community and really push this I think there could be some changes. We're not talking about radical changes, we're talking about inclusion. I feel very positive."
Stravinsky centenary
Sadler's Wells also revealed its plans for the year ahead, including a special celebration to mark 100 years since the first performance of Stravinsky's masterpiece, The Rite of Spring.
Three works, known together as A String of Rites, will pay tribute to the iconic ballet which Spalding said "changed the course of music and dance forever".
The centrepiece will be the premiere of a new work by leading choreographer and dancer Akram Khan, who was behind the Olivier Award-winning solo show DESH.
Called iTMOi (In the Mind of Igor), it will celebrate Stravinsky himself, but instead of using his music will feature an original score by Nitin Sawhney, Jocelyn Pook and Ben Frost.
Kahn said it was "a great privilege and terrifying at the same time to be doing something about Stravinsky".
The choreographer also recently took part in the Olympics opening ceremony, which he revealed was "quite terrifying" and "epic, because you knew it was only one moment in your life. I was in awe".
Michael Keegan-Dolan's version of The Rite of Spring will also be performed at Sadler's Wells next April, while in June RIOT Offspring will take its inspiration from the piece, featuring around 80 non-professional dancers including over-60s performers from The Company of Elders.
'Extremely proud'
Other events in 2013 to celebrate Sadler's Wells's 15th year in its current North London building include the expansion of its popular Sadler's Sampled event, which will be extended from two days to two weeks, with tickets from just £8.
2013 also marks the 10th anniversary of Breakin' Convention, Sadler's Wells annual festival of hip hop dance theatre. This year it will travel abroad for the first time, to perform in New York's legendary Apollo Theatre in Harlem, the birthplace of hip hop culture.
The Tanztheater Wuppertal Pina Bausch company will return to Sadler's Wells as part of a new annual partnership, to present two works from Pina Bausch, Two Cigarettes in the Dark and Vollmond (Full Moon).
Unveiling its annual report for 2011/12, the dance house said it was "extremely proud" of its achievements.
Sadler's Wells said 90% of its turnover was generated from earned income and 71% of that came from ticket sales.
The number of performances across Sadler's Wells theatre, its other theatre the Peacock in the West End and the company's Lilian Baylis Studio also increased by 53 to 677.
The company said it had also continued bringing work to new audiences, for example at Latitude Festival, where more than 4,000 people watched an excerpt from its Pet Shop Boys collaboration, The Most Incredible Thing.