David Walliams vies for children's fiction prize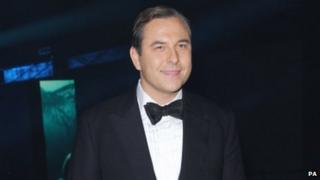 Comedian turned bestselling children's author David Walliams has been nominated for 2013's Red House Children's Book Award.
His book Gangsta Granny has made the shortlist for the only fiction prize voted for entirely by children.
Previous winner Sophie McKenzie is nominated for The Medusa Project: Hit Squad, alongside 2010 nominee Suzanne La Fleur's book Eight Keys.
Voting on the shortlist will take place until 27 January 2012.
Pittacus Lore, the pseudonym used jointly by James Frey and Jobie Hughes - as the author of the Lorien Legacy series, is up against McKenzie and La Fleur in the books for older readers category.
Walliams' book, illustrated by Tony Ross, battles two other books for younger readers, Elen Caldecott's Operation Eiffel Tower and The World of Norm: May Contain Nuts by Jonathan Meres and Donough O'Malley.
The full shortlist also includes four books for younger children; Welcome to Alien School by Caryl Hart and Ed Eaves, Can You See Sassoon? by Sam Usher, Louise Yates' Dog Loves Drawing and Spooky Spooky House by Andrew Weale and Lee Wildish.
An overall winner will be announced on 23 February 2013 during an awards ceremony at London's Southbank Centre, as well as winners in the three categories.
American author Patrick Ness won the 2012 award with A Monster Calls earlier this year.
The Red House Children's Book Award, run by the Federation of Children's Book Groups, is now in its 33rd year and is highly respected by teachers, parents and librarians.
It has often spotted future bestsellers, with past winners such as Harry Potter's creator JK Rowling, War Horse author Michael Morpurgo and Anthony Horowitz.