Jez Butterworth play The River wows at the Royal Court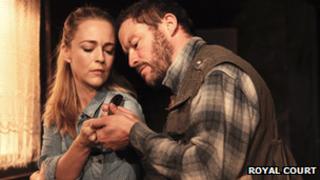 The River, Jez Butterworth's hotly anticipated follow-up to the smash hit play Jerusalem, has received rave reviews in the British press.
The Guardian's Michael Billington wrote the play, at London's Royal Court, "confirms that Butterworth possesses a singular talent".
But he added: "I only wish that more people could get to see it."
No seats are sold in advance with a daily allocation online and the rest available in person at the box office.
Billington wrote: "I spy a danger for the theatre in a new form of chic exclusivity."
He added: "At 80 minutes, it is strange, eerie, tense and, on a single viewing, slightly unfathomable. This is not, in the end, as resonant and public a play as Jerusalem. But it adopts a similarly equivocal attitude to its hero."
Charles Spencer, writing in The Telegraph, praised Butterworth's writing and also the play's direction.
"In Ian Rickson's expertly judged production the play grips throughout its 80 minute running time. It is also beautifully written 'mixing memory with desire' in TS Eliot's haunting phrase from The Waste Land."
He also hailed the performers, Dominic West, Miranda Raison and Laura Donnelly.
"West suggests darker depths beneath the central character's apparently innocent, love-struck enthusiasm, and makes Butterworth's thrilling nature writing really sing. And there are two neatly defined and contrasting performances from Miranda Raison and Laura Donnelly as the two women."
The Independent critic Paul Taylor also lauded Rickson's direction.
"So the first thing I should say, having now seen Ian Rickson's spellbinding, exquisitely modulated production, is that getting into The River is well worth any additional hassle you may have to go through with the booking.
"Lyrical and tricksy, occasionally droll and ultimately desolating, this intimate three-hander unfolds like a tantalising cross between a piece of deeply felt poetry and a sleight-of-hand puzzle."
The Times theatre critic Libby Purves referred to Pinter's influence on Butterworth in her critique.
"Butterworth's debt to Pinter is apparent in the building unease, the questions answered with long statements and stories, the sense of psychological trap around West and two women who almost become one.
"But there is no Pinteresque bullying and rage: wonder and beauty suffuse it even as it darkens, at a pace almost musical under Ian Rickson's direction."
The Arts Desk's Matt Wolf also compared Butterworth with Pinter.
"Here's a puzzle play, alluring and unsettling in turn, that puts one in mind of a roll call of writers (Harold Pinter among them) in different ways while marking Butterworth out anew as the most singular voice in town.
"Eyes brimming over with an equal awareness of love and loss, West cuts a figure of unforced, casual masculinity as integral to this occasion as was Mark Rylance's outsized swagger to the posturing roustabout, Johnny Byron; it's a remarkable portrayal, not least for the way it finds something desolate in deception that ups the emotional stakes."
The Daily Mail's Quentin Letts gave The River five stars, comparing Butterworth to the late poet Ted Hughes.
"Mr Butterworth, apart from a horrid reference to 'Christian era' when he means AD, writes beautifully.
"He describes the muddy impulses of the river fish almost as poetically as Ted Hughes, whose verse we hear at one point. Yet there are also the urges, the instincts (not least for survival) of young women...
"On stage Mr West is brilliantly liquid. I wish he would not pronounce 'lure' in an American manner but otherwise his performance is faultless. The women are strongly acted too."