Argo tops US box office on week three of release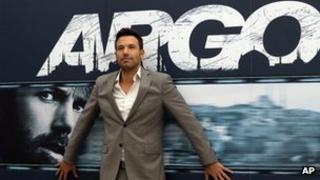 Ben Affleck's Argo has claimed top spot on the North American box office chart, three weeks after its release.
The film is based on a real-life story about a CIA operative who plans to rescue six Americans hiding in Iran after the 1979 US embassy takeover.
The critically acclaimed movie made nearly $12.4m (£7.7m) this weekend, according to studio estimates.
It spent the previous fortnight in second spot. Affleck directs and also stars in the movie.
A spokesman for Warner Bros said the studio was "thrilled".
"An accomplishment like that is well deserved, they don't happen very often," said Warner's head of distribution, Dan Fellman.
"You would probably have to do a lot of searching to find a movie that opened in wide release to have two number two weekends in a row and hit number one in the third week," he added.
"It's a tribute to the film. Word-of-mouth has taken over the campaign."
Argo won the Hollywood Ensemble Acting award last week.
Sony's Halloween-themed film Hotel Transylvania crept up one place from number three to two, taking $9.5m (£5.9m).
Another Warner film, the star-studded Cloud Atlas, had a disappointing debut, entering the chart at number three with takings of $9.4m (£5.8m).
Fellman acknowledged it had underperformed - missing projected takings of between $11m and $12m (£6.84m - £7.47m).
The film, which features six stories spread across two centuries, stars Tom Hanks, Halle Berry and Hugh Grant. It split critics with some calling it "baffling" while others praised "one of the most ambitious films ever made".
Rounding out the top five were Paranormal Activity 4 at number four, with a tie at five for Silent Hill: Revelation 3D and Taken 2.