John McCririck blames ageism as he is 'sacked' from C4 Racing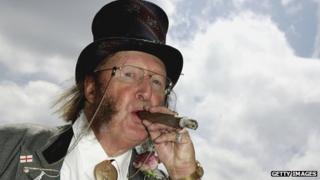 Longtime Channel 4 racing pundit John McCririck has accused bosses of "ageism", after he was dropped from the station's line-up of presenters.
The 72-year-old said he was "devastated at being sacked" after the broadcaster announced its new racing team, led by Clare Balding.
Nick Luck will join Balding as a key presenter from January 2013.
McCririck will be replaced by his current sidekick Tanya Stevenson, providing trackside betting odds.
On air, the presenter often refers to her as "the female".
The veteran presenter claimed Channel 4 had cited "audience research" as the reason for his departure.
"Yes, I do antagonise people as reactions to being twice in the Celebrity Big Brother house and also on Coach Trip prove.
"Yet, as Clare Balding, a terrific choice to lead the new young team, said recently, I've become the face of racing alongside Frankie Dettori and now of course Clare herself."
McCririck has covered betting for 31 years, first on ITV then Channel 4. He noted that of the 13 people now presenting Channel 4's racing coverage, only Jim McGrath was over 50.
"It is so sad that Channel 4 boss Jay Hunt and production chief Carl Hicks, both long-time BBC executives, have again gone down their well-worn path of ageism."
He continued: "Without any consultation or being asked to change my presentation style, I was only told by Channel 4's Head Of Sport Jamie Aitchison half an hour before their press release."
The pundit warned bosses that racing was a sport for "all ages and classes of society".
"I trust those now in power, having shown their macho images as all new producers do by getting rid of their most well-known older performer, don't forget that racing appeals to all generations."
'Insightful and intelligent'
Channel 4's Sports Editor Aitchison thanked the current presenting team for "their commitment and enthusiasm to Channel 4 and the racing coverage over the years".
He said it was a "real privilege" to be the "new home of horseracing" after the BBC lost the rights to horseracing earlier this year.
He added that the new-look team had been "carefully selected" to provide "a mix of broadcasting heavyweights and racing experts" who could ensure "insightful, intelligent and ground-breaking" coverage.
Luck and Balding will be joined by roving reporters Alice Plunkett, Rishi Persad and Emma Spencer, while Jim McGrath will be joined by new recruits Graham Cunningham and Mick Fitzgerald for in-depth analysis.
Simon Holt will stay on as commentator, with support from Richard Hoiles.
Luck, who will join Balding for the big events such as the Cheltenham Festival, Derby, Grand National and Royal Ascot, called the role "an incredibly exciting opportunity".
He will also front Channel 4 Racing's weekly Saturday afternoon programmes.
A Channel 4 spokeswoman said the new team "reflects our desire to give a new approach to covering horseracing as we become the terrestrial home of the sport".