Musicians record track for Hillsborough families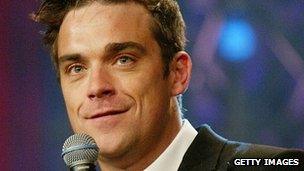 Robbie Williams and Beverley Knight are taking part in a charity single in aid of the families of victims of the 1989 Hillsborough tragedy.
A host of British musicians including Mel C, Paloma Faith and Mick Jones will unite to record the Hollies' classic He Ain't Heavy, He's My Brother.
Produced by acclaimed songwriter Guy Chambers, the cover version will be released on 17 December 2012.
Funds raised will go towards the families' legal costs.
"I am deeply honoured to be asked to produce this record for the 96," said Chambers, who is best known for his work with Robbie Williams and Kylie Minogue.
"If we can help to raise money to support the families' legal battle so that they finally get their time in court then our job will be done.
The Zutons' Dave McCabe and Paul Heaton, and X Factor star Rebecca Ferguson, are among the other artists who will be dedicating their time for free to record the track, which will be joining the challengers for the coveted Christmas number one spot.
"I'm very happy with the artists we have already," said Chambers, "but obviously I know Sir Paul McCartney was mentioned so if he did join our happy little band of talent then that would be amazing."
All profits from the sale of the CD will go towards assisting the victims' families in their continued fight for justice.
The Hollies track was played by Everton FC following the release of the Hillsborough Independent Panel report in September. Chambers said the song "created an incredible impression".
"It made a lot of people cry and the song had immense power. I just listened to it and I thought I certainly couldn't write a better song than that."
The Hillsborough Independent Panel spent 18 months looking through more than 450,000 pages of documents relating to the fatal crush at the Hillsborough stadium during Liverpool's FA Cup semi-final match against Nottingham Forest on 15 April 1989.
In a report published in September, it found the lives of 41 of the victims could potentially have been saved if the response of the emergency services had been swifter.
"The families of the 96 should never have been in the position they are now in, of having to fight to get the accidental verdicts from the 1989 inquests overturned," said football legend Kenny Dalglish, who was manager of Liverpool at the time of the disaster, and is backing the campaign.
"The single really promotes and endorses what the families have fought for for 23 years and I'm sure they get tremendous solace and confidence from the fact that people are totally supportive towards them and their cause."
Related Internet Links
The BBC is not responsible for the content of external sites.