Theatre protection fund reveals its first grants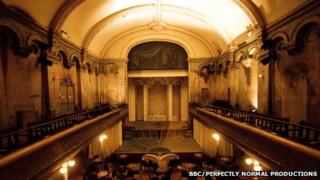 Wilton's Music Hall in London, Sleaford Playhouse and Liverpool's Royal Court Theatre are among the first to benefit from the Theatres Protection Fund's new small grants scheme.
Each have received £5,000 to help fund urgent repairs and improvements.
Oldham Coliseum, the Half Moon Young People's Theatre and the Soho Theatre in London have also received grants.
Andrew Lloyd Webber and producer Judy Cramer are helping to fund the scheme, donating £25,000 each this year.
It was launched by The Theatres Trust in April to help theatres address building problems, make environmental improvements and enhance accessibility.
The Grade II* Wilton's Music Hall in East London was formerly on the Trust's Theatre Buildings at Risk Register.
The venue's £5,000 grant will go towards restoring its orchestra pit and carrying out urgent repairs to the timber floor in the auditorium.
Sleaford Playhouse will put its grant towards windows as part of its ongoing project to return the Grade II playhouse back to its original Georgian appearance.
The Soho Theatre will be replacing its front doors, while Liverpool's Grade II Art Deco Royal Court Theatre will be spending its grant on a new safety curtain.
"We are delighted to be able to provide valuable help at a crucial time with these projects and further recipient theatres will be announced in the near future," said Rob Dickins, the chairman of The Theatres Trust.
He added: "This would not have been possible without the wonderful generosity of the Andrew Lloyd Webber Foundation and top producer, Judy Craymer.
"I hope that more theatre professionals will follow their lead as I really want to be able to widen the level of financial support The Theatres Trust gives to theatres in need."
Renowned regional theatre Oldham Coliseum has received a grant of £2,500 to help redesign its box office and improve access for disabled visitors.
The Half Moon Young People's Theatre, serving young people in Tower Hamlets, has received £2,000 to improve access with a new lift.
The scheme opened in May and received applications totalling £140,000 in the first round. Trustees will meet again in December to consider further grants.
The fund received an opening donation of £125,000 from Andrew Lloyd Webber's charitable foundation back in April, to be paid over five years.
In September Mamma Mia! creator Judy Craymer also pledged to donate a total of £125,000, calling theatres "very precious".