'Classic yet modern' Skyfall aims to please Bond fans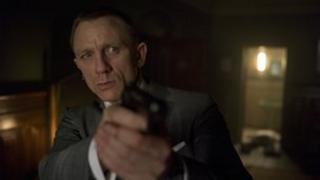 BBC News talks to the stars and director of Skyfall as they prepare to unveil the latest Bond film to an expectant UK audience.
It is Monday morning on the seventh floor of a posh central London hotel, and the Bond publicity machine is cranking into gear.
Power cables snake down labyrinthine corridors that bustle with activity as journalists are ferried between suites, inside which the stars of Skyfall, its director and its producers sit waiting to be interrogated.
Publicists scurry from room to room, clip-boards in hand. Timetables are scrutinised, compared and amended. Behind a door we can hear a cast member's lunch order being conveyed over the phone.
Interviews with said actress are running slightly late due to a last-minute wardrobe change. Her original outfit was "strobing" - patterned, in other words, in such a way as to cause an optical defect when broadcast.
This reporter has attended countless film junkets, as have his colleagues.
Yet the 007 factor gives this one - held on the day before Skyfall's world premiere at the Royal Albert Hall - an extra frisson.
"I have felt connected with the Bond universe for many years," says Berenice Marlohe, the French-Cambodian actress who plays the legendary secret agent's latest love interest.
"I always knew that it was a big franchise. But it's only now I realise just how passionate everyone is about it."
In an adjoining suite, Spanish actor Javier Bardem has a sore throat.
It is hardly what one needs on a day set aside for telling as many people as possible about his role as Skyfall's larger-than-life villain.
"It's not what I like the most, but it's part of the job," the Oscar-winner admits. "I guess that's what they pay you for.
"They don't pay you for acting - they pay you for selling."
From adverts to billboards to blanket media coverage, Team Skyfall is leaving nothing to chance ahead of the film's nationwide release.
'Classic yet modern'
Yet all this preparation has a purpose - to make the 23rd "official" Bond as successful, and as profitable, as any in their 50-year history.
"We didn't think about the anniversary during the shooting," says Daniel Craig, whose third Bond this is. "I kept it at the back of my mind.
"But we definitely wanted to remind ourselves what Bond is about. This gave us a chance to make as classic a Bond movie as we possibly could."
The end result, as UK cinema audiences will discover this weekend, is awash with familiar Bondian signifiers.
They include a bold opening ballad, performed by Adele; the return of gadget provider Q, now played by Britain's Ben Whishaw; and another outing for 007's Aston Martin DB5, first seen in 1964's Goldfinger.
The iconic car plays an important role in a story that sees Bond face a formidable old adversary of his MI6 superior M, played - for the seventh time - by Dame Judi Dench.
Other traditional elements include explosive mayhem, exotic locations and more than one romantic encounter.
Nostalgia, however, is only part of the picture. "The film had to be very modern too, and have modern themes," insists Craig.
The latter certainly applies to villain of the piece Silva, a "cyber-terrorist" who at one point mirrors WikiLeaks founder Julian Assange by making sensitive information available online.
'Different form'
Some may find the film similarly current in its depiction of Silva's sexual ambiguity.
This constitutes quite a departure for a series whose antagonists have generally shared Bond's staunchly heterosexual orientation.
"It wasn't pointed out in the script," reveals Bardem. "It was a matter of bringing different options to it, and trying things out on the set."
The Spaniard, though, prefers not to dwell too much on this particular facet of his character.
"It's out there for people to make their own reading," he shrugs. "But it's just one colour, not the whole painting."
In a neighbouring room, another Oscar recipient is offering his thoughts on why the Bond series has endured, and flourished, for so many years.
It was a question director Sam Mendes had many opportunities to ponder as he took on the task of bringing 007's latest adventure to the screen.
"I've always thought that Bond, at his best, regenerates," he tells the BBC. "For me, the challenge was to bring him and all the characters around him back in a totally different form.
"I love the way he has to re-emerge in a new world and justify his existence. That's really what the story's about."
Skyfall is out in the UK and Ireland on Friday.