Record ratings for digital radio stations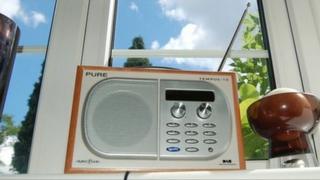 Three of the BBC's digital stations have attracted record audiences in the past three months, according to figures released by Rajar.
BBC 6 Music had 1.62 million listeners each week between July and September - an increase of 391,000 on the same period last year.
Radio 4 Extra and the Asian Network also saw their audience share rise.
Overall, DAB radio accounted for 20% of all listening, up from 18% during the same period in 2011.
The Absolute Radio Network saw digital listening reach an all time high, with an audience of 2.28 million listeners - the largest digital audience of any commercial station over the past three months, and an increase of 1% on last year's figures.
Absolute Radio continues to lead the way in digital listening with 78% now on digital, compared to an industry average of 31%. However, the network did suffer a fall in overall listenership dropping 12.4% on the quarter.
"This summer quarter has been impacted by an unprecedented summer of BBC dominated sport," explained chief operating officer Clive Dickens. "Our priority is long-term growth, and the Absolute Radio Network is up, once again, year on year."
The BBC's bespoke Olympics station, 5 live Olympics Extra, brought in 1.9 million listeners during the games.
However, 5 live itself saw listenership slip during the three-month period, by 38,000.
Over the summer, the station attracted 6.32 million listeners, compared with 6.36 million the previous quarter and 6.43 million last year.
Commercial station TalkSport breached the three million barrier with 3.02 million listeners, up 3.4% on the previous quarter but down 3.6% year on year.
Moyles versus Evans
Former Radio 1 breakfast host Chris Moyles, who presented his final show on 14 September, continued to lose listeners in his final months.
His weekly audience fell to 6.73 million listeners, down from 6.93 million the previous quarter.
Over the course of the year, his audience dropped from 7.16 million.
The first figures for Moyles' replacement, Nick Grimshaw, are due in the next set of Rajar statistics.
As a whole, Radio 1's weekly audience of 11.85 million last year has fallen back to 11.19 million, losing 100,000 listeners in the last three months alone.
Among London listeners, Capital Breakfast with Dave Berry & Lisa Snowdon achieved higher numbers than Moyles in his final quarter. According to new figures, the show is currently the most popular commercial breakfast slot in London, with 1.17 million listeners each week.
Their success was boosted by an overall surge in Capital's digital audience, up 16% on the previous year.
Magic 105.4 took the undisputed number one spot among commercial stations in London, with 2.17 million weekly listeners on average in the three months to September. As with Capital, the commercial station was aided by a 5.7% increase in digital listeners over the past year.
Figures for Chris Evans's Radio 2 breakfast show audience also dropped, from 8.95 million to 8.55 million listeners from July to September.
However, Radio 2 remains the biggest BBC station with 13.9 million listeners, but audience numbers have dropped from their record high of 14.3 million during the same period last year.
Meanwhile, classical station Radio 3 increased its listenership to to 2.15 million, compared with 2.05 million during the same period last year.
Commercial rival Classic FM has 5.45 million listeners tuning in each week, down slightly quarter on quarter but with an increase of 62,000 since the same time last year.
"It is encouraging to see that the radio industry as a whole is in good health and impressive that it has held up over the Olympic summer," Tim Davie, the BBC's director of audio and music said.
Rajar found the number of people listening to radio in the UK in the last three months overall fell by 500,000 to 46.6 million.
Digital radio accounted for more than 320 million listening hours with accounting for 31.3% of all radio consumption - up 6% on last year.
Compared with this time last year, listening via mobile phones rose by almost 12%.