Spider-Man musical writer lands book deal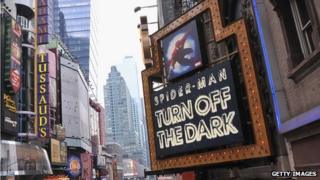 Glen Berger, one of the writers behind Broadway musical Spider-Man: Turn Off The Dark, is to reveal all about the disaster-prone show in a new book.
The big-budget production - featuring music by U2's Bono and The Edge - was plagued by problems including delays and a series of stunt accidents.
Publishers say Berger's book will give the "ultimate fly-on-the-wall account".
Song of Spider-Man: The Inside Story of the Most Controversial Musical in Broadway History is due out next year.
The show was eventually given an overhaul after its original director and co-creator, Julie Taymor, was fired.
Taymor then sued the producers, claiming she was not compensated for her work, before they sued her back, saying the director had failed to carry out the duties that were expected of her.
Producers eventually agreed to pay her hundreds of thousands of dollars in royalties.
Taymor was replaced by Philip William McKinley, who directed hit show The Boy From Oz starring Hugh Jackman.
Broadway history
Spider-Man: Turn Off the Dark began previews in November 2010 before finally opening in June 2011.
Several cast members were injured during around 180 preview performances, while performing elaborate stunts.
The musical, which cost $75 million (£48m) to make, is the most expensive Broadway show ever produced.
Early reviews were resoundingly negative, however following the revamp the show broke records in January when it had the highest single-week takings of any previous Broadway show.
It took $2.9m (£1.8m) over nine performances according to The Broadway League, which U2's The Edge called a "proud day" for everyone involved.
Bono added: "For all the problems, there was magic on the stage."
Berger has written several other plays including Underneath the Lintel and Great Men of Science, Nos 21 & 22, as well as collaborating on new musicals such as On Words and Onwards.
He also won two Emmys for his work in television, having penned several children's television shows such as Arthur and Curious George.