David Walliams to host 100th Royal Variety Performance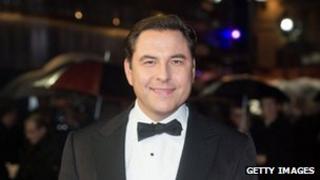 Comedian and Britain's Got Talent judge David Walliams will host the 100th Royal Variety Performance next month.
Heading the bill are Robbie Williams, Girls Aloud, Kylie Minogue, Alicia Keys, Neil Diamond and Rod Stewart.
Britain's Got Talent winners Ashleigh and Pudsey the dog will also perform, while Placido Domingo and Katherine Jenkins are to sing a duet.
Comedians Rhod Gilbert and Bill Bailey will also appear at the show, which takes place at the Albert Hall.
The performance takes place on 19 November, but it will not be screened on ITV1 until early December.
The show will also include excerpts from West End hits Matilda: The Musical and The Bodyguard, which opens in London on 5 December.
David Walliams said: "I am honoured to be presenting the Royal Variety Show this year. It is a show that I have watched every year from a very young age, and never dreamed I would be one day be a part of it. The line-up is out of this world."
The Queen and the Duke of Edinburgh will attend this year's show, returning for the 100th anniversary, after missing the last two instalments.
Staged annually in aid of the Entertainment Artistes' Benevolent Fund (EABF), whose patron is the Queen, the show was first held in London's appropriately-named Palace Theatre.
Then known as the Royal Command Performance, it was hosted by theatre owner Alfred Butt in the presence of King George V and Queen Mary.
The theatre was decked out in "three million roses" for the occasion, according to contemporary reports.
Acts on the bill included vaudeville actress Cecilia Loftus; music hall star Wilkie Bard, who popularised the "she sells sea shells" tongue-twister; and comedian Little Tich, famed for his Big Boot Dance, which he performed in 28-inch-long boots.
However Marie Lloyd, who was perhaps the biggest name in popular music hall at the time, was omitted from the line-up on the grounds she might be too risque for the royal guests.
Money raised by this year's show will help to maintain Brinsworth House in Twickenham, Middlesex - the entertainers' retirement and nursing home which is run by the EABF.