BBC's Savile response polarises British press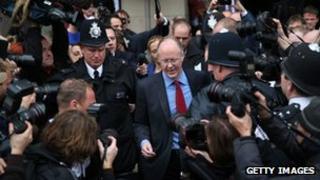 The British press is delivering its verdict on BBC director general George Entwistle's appearance in front of the Commons culture committee.
Entwistle was answering questions surrounding the BBC's handling of the Jimmy Savile sex abuse allegations.
The Telegraph's Parliamentary sketchwriter, Michael Deacon, said: "Watching the interrogation was an uncomfortable experience. Mr Entwistle spent it flapping helplessly, like a fish on a dock.
He noted that MPs "were openly scornful, more and more so as it became clear that Mr Entwistle, by his own account, had known very little about the saga of the dropped Newsnight investigation into Savile.
"It seems he'd also made very little effort to find out more," Deacon added.
The Telegraph's deputy political editor James Kirkup concurred with Deacon, saying said the BBC boss "does not come across as a man with a vice-like grip on the facts of a scandal that is doing his organisation grievous harm".
But one of the broadsheet's bloggers, Dan Hodges, who has previously worked for the Labour Party and the GMB trade union, defended Entwistle.
"George Entwistle may be up to his neck in this scandal and his attempts to answer the MPs' questions were nervous and faltering. But to be honest, who can blame him? He's damned if he does, and damned if he doesn't.
"On the one hand we've got Ed Miliband and others demanding an independent inquiry into Savile. On the other we have MPs demanding to know why BBC executives haven't already conducted their own investigation, found all the answers and shared their findings with Parliament."
During questioning, Entwistle described the revelations of sexual abuse on BBC premises as a "gravely serious matter".
He repeatedly referred to the independent inquiries he has launched: One into the allegations against Savile, and another into the cancellation of a Newsnight report last year. The BBC boss refused to be drawn into speculation on the outcomes of those investigations.
The Guardian's John Plunkett said it had been a "very difficult two hours" for Entwistle.
"In terms of Entwistle's overall performance, he came across as a decent man but very often not entirely in charge of the facts."
Plunkett added that despite "two hours of grilling... the key question remains. Is it really credible that George Entwistle... did not know more about the nature of the Newsnight allegations?
"And why," when he was informed of the report by BBC head of news Helen Boaden, "did he not ask more questions about it?"
'Constant pressure'
Earlier this week, media commentators and newspapers were divided over the BBC's response to the scandal.
The Times said on Tuesday: "If the BBC had been left to its own devices, the world would never have known that Sir Jimmy Savile abused children".
The Daily Mail said it was "the worst BBC crisis in 50 years".
But media commentator Emily Bell tweeted: "The Daily Mail's assessment of the worst BBC crisis in 50 years seems totally wide of the mark."
She added that it was "not even the worst in a decade."
"So much of this is about context, timing, environment, pressure. Journalism is an imperfect science," she tweeted on Monday.
The BBC took the unusual step of allowing one programme to investigate the workings of another on Monday - with Panorama looking into the decisions that led to Newsnight dropping its report on Savile.
Mark Damazer, the former head of BBC Radio 4, referred to Panorama's probe as "a piece of virtuous BBC navel-gazing" in a column for The Guardian.
"The BBC has an entrenched need to kick itself hard when under editorial attack. Every senior editor has a gene that makes it a major worry if his or her programme isn't leading the media pack when the corporation has apparently done something wrong.
"People under this degree of constant pressure are, from time to time, going to miscalculate. Who wouldn't?
"Maybe the BBC could have made this or that move a bit earlier. Maybe. But I do not see an organisation that is being cavalier about Savile or Newsnight, or even particularly defensive.
"I know that many licence-payers will feel let down. But the BBC has recovered before from editorial dramas - and we ought not to enjoy its misfortunes."
The Sun - in its Sun Says opinions column - focused its attention on George Entwistle's role.
"He has constantly failed to grasp the seriousness of a scandal where police are investigating up to 200 claims of sexual assault by a notorious BBC predatory paedophile, including attacks on BBC premises."
The Sun called again for a judge-led independent inquiry.
Chief political commentator at the Independent, Steve Richards, said he did not believe there had been a cover-up but he too questioned management's handling of the subsequent crisis.
"The original allegation that senior managers organised a cover-up over Jimmy Savile because they were planning to broadcast a hagiography was absurd, wrong and could have been addressed easily.
"What is alarming for fans of the BBC is that this crisis is not a one-off. Too quickly manageable events become unmanageable.
"I know well some of those involved in previous crises and this one. Most are decent and committed yet are trapped in a structure that treats them perhaps too well most of the time only to leave them dangerously exposed when external scrutiny suddenly becomes intense.
"Usually, the BBC's response to crises is to create more layers of management, shaping the circumstances for the next disaster."