Third Homeland series to air next year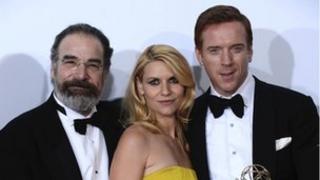 Hit US TV series Homeland has been given a third season from the American cable network, Showtime.
Production on 12 new episodes of the Emmy award-winning drama will begin in spring 2013 for air later in the year.
"The evidence seems to be that more and more people are coming to the show, "Showtime's David Nevins told The Hollywood Reporter.
Homeland had its highest-rated episode so far in the US on Sunday with 1.75 million viewers at 22:00 local time.
The show, which stars Damian Lewis and Claire Danes, picked up six Emmys earlier this year, including for outstanding drama series and outstanding lead actress and actor in a drama series.
"The Emmy wins for Homeland have certainly set the stage for a great second season," added Mr Nevins.
"The writers, cast and crew of Homeland continue to create a remarkably entertaining and suspenseful roller coaster ride, growing audiences week after week.
Growing audience
"We can't wait for our viewers to experience what unfolds through the rest of season two," he said.
The US return of Homeland on 30 September was watched by 1.7 million, a 60 per cent rise on the audience for last year's first episode.
And viewership has been growing; 1.75 million tuned in for the fourth episode on Sunday night.
Homeland's UK ratings have proved much higher, with season two's return to Channel 4 on 7 October attracting 2.3 million.
It's unclear whether the story will continue to include the partially outed terrorist, Nicholas Brody played by Damian Lewis but Nevins said "change is inevitable in television".
"I think the core of the writing staff will return," he said, adding: "it would probably get boring if we kept it the same group year after year."
He also revealed that the direction of the plot was not a condition of the third season.
"There are daily, hourly creative conversations about the show, so we're all largely in sync. This pickup was not contingent on anything creative. This is just an opportune moment."