Jimmy Savile Panorama attracts five million viewers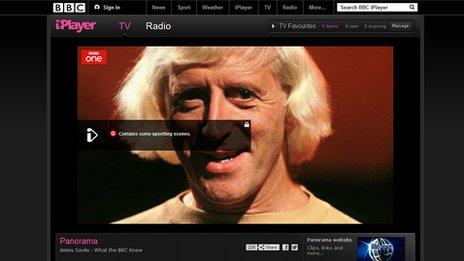 An average 5.1m people tuned in to watch the Panorama special on Jimmy Savile, early figures show.
The figure is high for Panorama, which usually averages 2.5-3.5 million viewers in its earlier 20:30 timeslot.
It is more than twice the ratings for the ITV documentary which broadcast the original allegations.
ITV1's Exposure: The Other Side of Sir Jimmy Savile attracted 2.44 million viewers - when it aired in the later timeslot of 23:10 on 3 October.
Monday's Panorama showed for the first time an interview BBC Newsnight had filmed last November with Karin Ward, ex-pupil at Duncroft approved school for girls in Staines, Surrey, who said she had been abused by Savile when she was a girl.
Ms Ward, who was being treated for cancer when she agreed to the interview, told Panorama she had been angered when her interview was not aired after the programme on the allegations was axed.
Earlier this month, in a blog, Newsnight editor Peter Rippon explained the editorial reasons behind his decision to axe the report. He said it was "totally untrue" he had been ordered to do it by bosses as part of a BBC cover-up.
On Monday the BBC issued a correction to this blog, calling it "inaccurate or incomplete in some respects".
It said Mr Rippon was stepping aside for the duration of a BBC inquiry into whether there was any failings in the BBC's management of the investigation.
About 700,000 viewers also watched the first part of Monday's Newsnight, which ran its own report on the investigation.