BBC pulls New Tricks 'child abuse' episode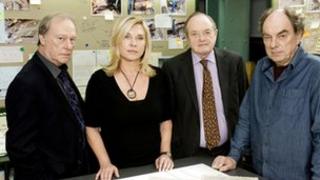 The BBC has pulled an episode of crime drama New Tricks about an under-age sex ring in a care home in the light of allegations about DJ Jimmy Savile.
The programme was due to be screened at 2100 BST on Monday night.
A BBC spokeswoman said: "In light of current news events, this week's billed episode of New Tricks will be replaced by next week's episode."
New Tricks features an eccentric group of ex-police officers brought out of retirement.
Episode nine in the current series of the show, which stars Alun Armstrong and Dennis Waterman, was about a child abuse scandal spanning two decades.
The BBC will instead show episode ten. A new date for transmission for the dropped episode has not been confirmed.
Last month, the BBC postponed the final episode of Good Cop after the deaths of policewomen Fiona Bone and Nicola Hughes in Greater Manchester.
The drama, starring former Hollyoaks and Luther actor Warren Brown, had featured a violent attack on a female police officer.
It was eventually screened on 13 October.