Florence tops chart with second Harris collaboration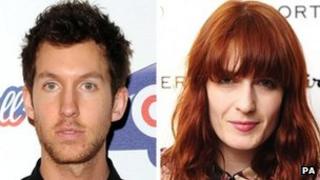 Florence Welch and DJ Calvin Harris have topped the UK singles chart for the second time this year with their latest collaboration Sweet Nothing.
It follows the success of their last joint effort Spectrum (Say My Name), which reached the top spot in July.
Last week's number one track, Don't You Worry Child by dance trio Swedish House Mafia, slipped to number two.
Adele's Bond theme Skyfall also dropped down the chart amid unconfirmed reports she has given birth to a baby boy.
Her spokesman declined to comment on newspaper stories that she had her first child with partner Simon Konecki on Friday.
Skyfall, the title track from the latest James Bond movie, was at two last Sunday but has now fallen three places to five.
No Bond theme has ever topped the charts in the UK - though Duran Duran's 1985 track A View to a Kill, like Adele's, did make it to number two.
In the album chart, Nottingham newcomer Jake Bugg went straight into pole position with his self-titled debut disc.
The 18-year-old's success came at the expense of Leona Lewis, who was denied her third consecutive number one album.
The 27-year-old winner of 2006's X Factor had to settle for a number three placing for her latest record, Glassheart.
This week also sees Art Garfunkel score his first solo Top 10 album in 32 years with his new compilation The Singer.
The 70-year-old, renowned for his partnership with Paul Simon, saw his double CD claim 10th place in the countdown.
Welsh, of Florence + The Machine fame, is one of several artists featured on Harris's 18 Months album, out later this month.
US R&B stars Kelis and Ne-Yo also feature on the third studio album from the Scottish DJ and producer.